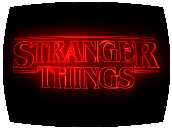 November 6, 1983: An incident occurs at the Hawkins National Lab in Hawkins, Indiana. Something beyond the lab's control escapes into the surrounding suburbs.
A marathon weekend session of Dungeons & Dragons breaks up, and Mike Wheeler has to give up being the Dungeon Master and return to school the following day. His friends Lucas, Dustin and Will all get on their bikes to head home, but the sight of a strange, towering humanoid figure sends Will off the road. He ditches his bike and races home on foot, only to find that both his older brother and his mother are still at work. Something beyond Will's comprehension takes him.
Joyce Byers, Will's mother, files a missing child report with the local police, though the initial response from Hawkins' police chief is a bit underwhelming. Mike, Lucas and Dustin are all warned to stay home, rather than going to look for Will. Across town, a mysterious girl in a hospital gown is taken in by a restaurant owner, who pays for his kindness with his life when armed agents come looking for her. The girl manages to escape, and runs into Mike, Lucas and Dustin, who are doing precisely what they've been told not to do.
written by Matt Duffer & Ross Duffer
directed by Matt Duffer & Ross Duffer
music by Kyle Dixon & Michael Stein

Cast: Winona Ryder (Joyce Byers), David Harbour (Jim Hopper), Finn Wolfhard (Mike Wheeler), Millie Bobby Brown (Eleven), Gaten Matarazzo (Dustin Henderson), Caleb McLaughlin (Lucas Sinclair), Natalia Dyer (Nancy Wheeler), Charlie Heaton (Jonathan Byers), Cara Buono (Karen Wheeler), Matthew Modine (Dr. Martin Brenner), Joe Chrest (Ted Wheeler), Joe Keery (Steve Harrington), Rob Morgan (Officer Powell), Ross Partridge (Lonnie Byers), Shannon Purser (Barbara Holland), John Paul Reynolds (Officer Callahan), Noah Schnapp (Will Byers), Mark Steger (Monster), Chris Sullivan (Benny Hammond), Andrew Benator (Elevator Scientist), Stefanie Butler (Cynthia), David Dwyer (Earl), Catherine Dyer (Agent Connie Frazier), Salem Hadeed-Murphy (High School Principal), Randy Havens (Mr. Clarke), Hugh Holub (Scientist), Tobias Jelinek (Lead Agent), Cade Jones (James), Anniston Price (Holly Wheeler), Tinsley Price (Holly Wheeler), Anthony Reynolds (Agent), Susan Shalhoub Larkin (Florence), Tony Vaughn (Principal Coleman), Peyton Wich (Troy), Brenda Wood (Local Newswoman)
LogBook entry by Earl Green