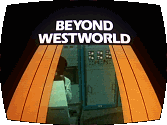 A scandal involving a police officer – who is then attacked and hospitalized – coincides with the arrival of the governor to give an important policy speech. Suspecting that Quaid and his robot army are again involved, John Moore is sent to pose as a rookie cop, part of the governor's security detail. But what Moore and Delos don't know is that Quaid is no longer relying exclusively on robots, but on implants that enslave humans to the same computers that command Quaid's robots. Trying to stop electronically mind-controlled people and robots at the same time may be more than Moore can handle.
teleplay by Gregory S. Dinallo and Steve Greenberg & Aubrey Solomon
story by Gregory S. Dinallo
directed by Don Weis
music by George Romanis

Cast: Jim McMullan (John Moore), James Wainwright (Simon Quaid), Connie Sellecca (Pamela Williams), William Jordan (Joseph Oppenheimer), Monte Markham (Capt. Mike Nicholson), Julie Sommers (Liz Nicholson), Hari Rhodes (Commander Riley), Chip Lucia (Sgt. Al Benedek), Judy Pace (Vickie Greene), Martin Kove (Jack Edwards), Robert Alda (Governor Eric Harper), Helen Baron (Mrs. Rogers), Jan Stratton (Head Nurse), Bud Davis (TV Commentator/Moderator), Fred G. Smith (Signal Analyst), Robert Clarke (Reporter), Dana Halsted (Reporter #2), Arthur Roberts (Jim Roberts), Russell Johnson (Patrick), George Takei (Dr. Marcus)

Notes: Russell Johnson returns as Quaid's right-hand man, and suddenly Quaid has a smoking habit. George Takei is a robot doctor who helps Quaid gain total mind control over Captain Nicholson, and checks on the police chief later when he complains of the resulting headaches. This was the final episode of Beyond Westworld produced by MGM, but like The Lion, it was never aired by CBS. The two unaired episodes are now available on DVD.
LogBook entry by Earl Green