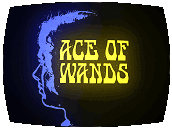 Mr. Christopher, an acquaintance of Mr. Sweet's, rushes into Sweet's bookstore while Lulli is watching the shop. He asks Lulli where Sweet can be reached, and then wants to call him, hiding a piece of paper in one of the books in the shop while Lulli looks for the phone number. But before much of a conversation can take place, a man named Luko appears out of thin air, killing Mr. Christopher and then looking for something until Lulli walks in. Luko vanishes again just as the door opens, leaving Lulli to find Mr. Christopher's cobweb-covered corpse. Tarot, Sam and Mr. Sweet converge on the store, and Mr. Christopher's walking stick, imbued with some kind of magical power, directs them to the paper – a scrap of 14th century paper with a drawing of a serpent. Mr. Sweet consults with the verger at a nearby church about the possible meaning and importance of the paper, only to be met with a horrified response. Tarot and Sam, expecting the killer to return to the bookstore in search of the paper, lay a trap, but this time Luko appears with his employer, the sinister Mr. Stabs, who seems to have considerable magical powers of his own – enough to stop Tarot in his tracks. Mr. Sweet and the church verger return with bad news: an exorcism, complete with chalk circles on the floor, will have to be performed on all who have touched the paper. During this ritual, the hand-drawn serpent becomes a real snake – and a terrified Lulli steps out of the protection of her circle.
written by Trevor Preston
directed by Pamela Lonsdale
music by Andrew Bown

Cast: Michael Mackenzie (Tarot), Judy Loe (Lulli), Tony Selby (Sam), Donald Layne-Smith (Mr. Sweet), Russell Hunter (Mr. Stabs), Ian Trigger (Luko), Harriet Harper (Polandi), Llewellyn Rees (Mr. Christopher), Jack Woolgar (Charlie Postle)

Notes: This is the premiere of Ace Of Wands' second season, but along with the rest of the second season, is missing due to ITV's policy of erasing and reusing then-expensive videotape in the 1970s. This synopsis is based on the original scripts (included as bonus features on Network DVD's box set release of the surviving third season) as well as very low-quality audio recordings of the episode in question.
LogBook entry by Earl Green