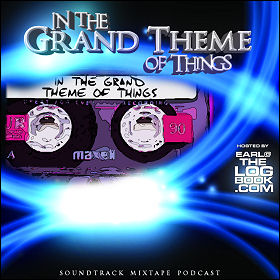 In The Grand Theme Of Things is a soundtrack mix tape podcast from theLogBook.com, researched, written and hosted by Earl Green. Each installment includes a few minutes' worth of "edited highlights" from soundtracks from movies, television, and/or games, all tied together by a topical theme. Maybe it's a setting. Maybe it's a plot point. Maybe it's something quirkier than that.
New installments will be made available as they're completed, with each installment running somewhere between 45 minutes. Usually, two episodes will be devoted to a particular theme; put those two together and the running time for that theme will be about an hour and a half. Some themes may be one-podcast wonders, others may need to spread their wings beyond two installments.
To ensure files that don't take up a huge amount of data storage real estate, either on our server or your media devices of choice, bit rates on the podcasts will be kept below 100kbps. If you want to hear the music in all of its dynamic range, we'll point you to where you can buy it for yourself.
What In The Grand Theme Of Things won't be, at least not very often, is music from a particular franchise or a particular composer; variety is the key here. A podcast that's all Star Wars music would chase off anyone that doesn't care for Star Wars, after all; any installments that are specific to a particular franchise will find interesting ways to throw a few surprises into the, ahem, mix.
Another thing I've tried to do with ITGTOT is to be less rigidly scripted. I have a skeletal outline for each installment in front of me; the rest is coming straight out of my head, ad-lib. I do retakes only if things go completely off the rails. This is me in radio guy mode… except that not many radio guys specialize in soundtracks.
Enjoy! As always, feel free to contact the webmaster with any concerns, or join us in the forums if you have comments or suggestions.