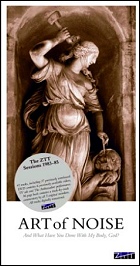 A fascinating peek into the early archives of Art Of Noise, this four-disc box set chronicles not only the process by which the group's seminal debut album was shaped, but it also shows the group struggling to define precisely what their sound would be, with numerous dead-end turns, cul-de-sacs and non-sequiturs along the way before they arrived at an answer which would almost single-handedly define an entire genre of music.
The only problem with this fascinating study of that first album is this: And What Have You Done With My Body, God? presents slight variations, retakes, outtakes and rejects of the same handful of songs…over and over again. If there was ever a collection for which the phrase "for the die-hard fans only" was coined, this would be it. In particular, you'd better like "Close (To The Edge)" and "Beatbox (Diversion One)". A lot. Because you'll be hearing them…a lot. And I'm not exaggerating there, really – the entirety of this four-disc set is devoted to the making of the first album. I could see, perhaps, four discs devoted to outtakes, rejects and rarities from the band's entire career, but no – this is all about the first album.
That's not to say that it isn't fascinating stuff, provided that you're well acquainted with that album. I was quite intrigued with all of the alleyways that "Close (To The Edit)" nearly got lost in on its way to becoming a defining musical moment of the 1980s. Bland synth pads, different samples and even bits and pieces that became attached to other Art Of Noise songs later on were tried on and discarded. A few neat ideas were too, but for the most part, one quickly gains an understanding of why these versions didn't make the final cut. "Beatbox (Diversion One)" goes through a similar evolution, though for most of its development it bears a slightly stronger resemblance to its final version.
There are other songs here that simply didn't make it to the first album; some of them – like "Bright Noise", "Flesh In Armour" and the brilliant but short piece "Comes And Goes" – would surface early in the band's career on EPs and as B-sides, but others were left by the side of the road, sometimes with good reason. There are several attempts at a song built around a sample of a man singing "ain't no goodbye" over and over again; not only is the song itself maddening, but one increasingly gets a whiff of the frustration that must have been felt by the group: this just isn't working.
For the uninitiated listener who doesn't have Who's Afraid Of? (The Art Of Noise) memorized front to back, however, this box set may seem unfocused, repetitive and confusing at best. Those looking to get into Art Of Noise would do better to pick up the actual album whose making this set covers, and then come back to this box set at a later date. The sticker on the front promises that this set is "The ZTT Years" – the label on which AON started out – and my only advice is that, should a second set follow, it should spread its wings a bit and perhaps cover the remainder of the group's output for the 1980s in one go, because even for a fan, this set's narrow focus on one album can get a bit wearing.
Disc One: The Very Start Of Noise
Beat Box (One Made Earlier) (2:19)
Once Upon A Lime (3:21)
War (Demo 2) (1:27)
Close To The Edge (2:19)
Confession (1:02)
Moments In Love (7:52)
Sign On Relief (1:28)
Who's Afraid Of Scale? (4:36)
So What Happens Now (Take 2) (4:23)
The Subject Has Moved Left (1:44)
It's Not Fair (4:28)
Close To The Edge (Ruff Mix) (5:54)
A Time For Fear (Who's Afraid) (4:33)
Moments In Bed (6:12)
Hidden Track (0:55)

Disc Two: Found Sounds and Field Trips
Moments In Love (12″ B-Side Idea) (3:10)
Tears Out Of A Stone (2:56)
Samba #2 (0:39)
The Chain Of Chance (4:36)
Fairlight-In-The-Being (4:37)
Diversions 3 (3:53)
Close (To Being Compiled) (3:47)
Diversions 5 (3:46)
Damn It All (1:42)
Structure (1:13)
The Angel Reel: Hymn 1 (Take 2) (0:36)
The Angel Reel: Hymn 3 (1:20)
The Angel Reel: Fairground (0:43)
And What Have You Done With My Body, God? (4:40)
Klimax (1:48)
Who Knew? (2:36)

Disc Three: Who's Afraid Of Goodbye?
War (Demo) (4:39)
The Focus Of Satisfaction (11:02)
Moments In Love (rejected 7″) (3:44)
It Stopped (4:27)
The Uncertainty Of Syrup (1:21)
The Long Hello (4:34)
The Vacuum Divine (0:47)
The Ambassadors Reel: Beat Box (3:54)
The Ambassadors Reel: Medley (10:56)
The Ambassadors Reel: Oobly (1:21)
Goodbye Art Of Noise (0:37)
Hidden Track (1:06)

Disc Four: Extended Play
Battle (0:27)
Beat Box (4:49)
The Army Now (2:03)
Donna (1:45)
Moments In Love (5:11)
Bright Noise (0:05)
Flesh In Armour (1:24)
Comes And Goes (1:19)
Moment In Love (1:27)
That Was Close (20:44)
Moments In Love (from Battle to Beaten) (14:28)
In Case We Sneezed (0:31)
A Time To Hear (Who's Listening) (3:32)
Do Donna Do (3:12)
Hidden Track (0:25)

Released by: ZTT
Release date: 2006
Disc one total running time: 52:33
Disc two total running time: 42:02
Disc three total running time: 48:27
Disc four total running time: 61:22