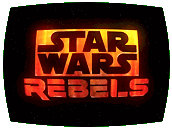 Ezra leads a daring raid on a fully staffed Imperial outpost on Naraka to rescue Hondo, who has been a useful informant for past Rebel operations. Hondo points the Alliance toward an Imperial salvage yard where captured Rebel Y-Wings are being dismantled for scrap; recovering them intact would boost Rebel firepower significantly, despite the fighters' age. Ezra, Sabine, Chopper and Rex scout the salvage yard out in the Phantom, only to discover that only a few Y-Wings remain intact. Ezra, promoted to lieutenant commander in the Rebel Alliance, decides that the scouting mission has become a recovery mission on the fly. Missing all of the action is Kanan, still blinded after his duel with Darth Maul, and deeply disturbed to find that Ezra has been gaining knowledge from the Sith Holocron. Kanan hears a voice that leads him away from the safe confines of Chopper Base, where he discovers a creature that calls itself the Bendu – a being whose Force abilities lie between the light and dark sides. The Bendu begins trying to teach Kanan to use the Force and his own remaining senses to "see" what his eyes can no longer see…but what he sees now is his own fear. But at the Imperial salvage yard, Ezra's lack of fear and his confidence and reliance on his new abilities may lead him to his own doom.
written by Steven Melching and Matt Michnovetz
directed by Bosco Ng and Mel Zwyer
music by Kevin Kiner
based on original themes and music by John Williams

Cast: Taylor Gray (Ezra Bridger), Vanessa Marshall (Hera Syndulla), Freddie Prinze Jr. (Kanan Jarrus / Stormtrooper), Tiya Sircar (Sabine Wren), Steve Blum (Zeb Orrelios / Imperial Officer #2 / Rebel Soldier), Dee Bradley Baker (Admiral Konstantine / Melch / Rex / Stormtrooper Guard #1), David Owelyo (Agent Kallus), Tom Baker (Bendu), Derek Partridge (Commander Brom Titus), Keone Young (Commander Sato), Mary Elizabeth McGlynn (Governor Pryce), Lars Mikkelsen (Grand Admiral Thrawn), Stephen Stanton (Grand Moff Tarkin), Jim Cummings (Hondo Ohnaka / Imperial Officer #1 / Mining Guild Captain / Terba), Nika Futterman (Presence), Dave Filoni (Rebel Trooper / Stormtrooper Guard #2)

Notes: Grand Admiral Thrawn has a considerably complex history considering that this is his first appearance in any non-print Star Wars media. Created by author Timothy Zahn and introduced in the 1991 novel Heir To The Empire, Thrawn had become a casualty of the Lucasfilm Story Group's massive realignment of Star Wars canon in the wake of Lucasfilm's sale to Disney. However, Zahn wrote a new novel – simply titled Thrawn – to realign the calculating Imperial tactical master with the new continuity, and Thrawn was also introduced as an on-screen character for the first time in this episode. Thrawn lives once again in the larger Star Wars canon. Hera says that the Y-Wings are being sent to "General Dodonna's unit", meaning that these may well be the Y-Wings flown by Porkins and his wing during the attack on the Death Star in Star Wars. The name "Bendu" has an even longer history in Star Wars lore, back to early drafts of George Lucas' The Star Wars, which featured the Jedi Bendu order rather than Jedi Knights. Bendu is voiced by Tom Baker, best known for his lengthy tenure as the fourth Doctor Who. Baker is the second Doctor to lend his voice to the Star Wars animated universe; one of his successors, David Tennant, voiced a droid character in an episode of The Clone Wars.
LogBook entry by Earl Green