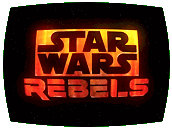 The Ghost is sent to help evacuate a Rebel cell from the planet Mykapo, but a freighter identifying itself as "Iron Squadron" is already putting up a fight against the Empire, even though it's readily apparent that the freighter has no hyperdrive of its own and can't escape. The leader of "Iron Squadron" – all of whom are teenagers – is Mart Mattin, nephew of Commander Sato of the Rebel fleet. Sabine and Ezra offer to stay and help Mart and his friends repair their ship, unaware that Grand Admiral Thrawn is using Mart as the bait in a trap to lure the Rebel's leadership out into the open.
written by Matt Michnovetz
directed by Saul Ruiz
music by Kevin Kiner
based on original themes and music by John Williams

Cast: Taylor Gray (Ezra Bridger), Vanessa Marshall (Hera Syndulla), Freddie Prinze Jr. (Kanan Jarrus), Tiya Sircar (Sabine Wren), Steve Blum (Zeb Orrelios / Imperial Officer), Dee Bradley Baker (Admiral Konstantine / Rex), Keone Young (Commander Sato), Meredith Anne Bull (Gooti Terez), Lars Mikkelsen (Grand Admiral Thrawn), Eric Lopez (Jonner Jin), Zachary Gordon (Mart Mattin), Dave Filoni (Phoenix Two)

Notes: "Iron Squadron"'s ship is a Corellian YT-2400 freighter, of the same design as the Outrider, Dash Rendar's ship in the Shadows Of The Empire novel and video game; a similar ship was also added to the Mos Eisley scenes of the 1997 "special edition" of Star Wars.
LogBook entry by Earl Green