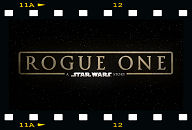 Orson Krennic, an Imperial officer, tracks down Galen Erso, a science officer who defected from the Empire to avoid allowing his talents to be used to perfect the primary weapon of the Empire's giant battlestation. Krennic's squadron of Death Troopers guns down Erso's wife, but fails to find his young daughter, who has gone into hiding in a prearranged shelter, to be picked up later by Rebel insurgent Saw Gererra. Galen Erso is taken back to work for the Empire; his daughter grows up without seeing him again.
But she does hear about him. Rescued – or is it abducted? – from an Imperial slave labor detail on Wobani, Jyn Erso is taken to a secret Rebel base in the Yavin system, and questioned about her father's work. An Imperial Pilot has defected from the Empire, carrying a message from Galen Erso to Saw Gerrera with details of the secret weapon. Under the careful supervision of Rebel intelligence agent Cassian Andor and his caustic, reprogrammed Imperial droid, K-2SO, Jyn joins a mission to Jedha, home of Gerrera's extreme faction of Rebels. The Empire is present in force, both mining kyber to complete the secret weapon and trying to track down the defecting pilot, and Jyn and Cassian stumble into guerilla warfare that has nothing to do with them – indeed, Cassian decides it's more of an obstacle than useful cover for their mission. They befriend a blind fighter named Chirrut, who claims a personal connection to the Force, and his heavily-armed comrade Baze, who has grown skeptical of the Force…and all of them are taken to Saw Gerrera. Jyn sees a holographic message from her father, detailing a weakness that he has carefully built into the main reactor of the Death Star, the Empire's new weapon…but just after viewing the message, Jyn and the others, with former Imperial pilot Bodhi Rook in tow, must escape the destruction of Jedha, whose surface is tearing itself apart after a single shot from the Death Star.
From Jedha to an Imperial weapons development base on Eadu to the Empire's repository of technical schematics on Scarif, the Rebels are fighting not just the pursuing forces of Krennic and the Empire, but one another. Word of the Death Star's power fails to galvanize the Rebellion's leadership into action, leaving Cassian, Jyn, Chirrut, Baze, K-2SO, Bodhi, and a ragtag group of volunteers to try to steal the Death Star plans from Scarif. Grand Moff Tarkin, keen to seize control of the Death Star from Krennic, is more than happy to demonstrate his fully armed and operational battle station to the Rebelliion. With the Empire's technological terror now roaming the galaxy, it will take no less a miracle than the return of the Jedi themselves to save the Rebellion.
screenplay by Chris Weitz and Tony Gilroy
story by John Knoll and Gary Whitta
directed by Gareth Edwards
music by Michael Giacchino / original Star Wars music by John Williams

Cast: Felicity Jones (Jyn Erso), Diego Luna (Cassian Andor), Alan Tudyk (K-2SO), Donnie Yen (Chirrut Imwe), Jiang Wen (Baze Malbus), Ben Mendelsohn (Orson Krennic), Guy Henry (Governor Tarkin), Forest Whitaker (Saw Gererra), Riz Ahmed (Bodhi Rook), Mads Mikkelsen (Galen Erso), Jimmy Smits (Bail Organa), Alistair Petrie (General Draven), Genevieve O'Reilly (Mon Mothma), Ben Daniels (General Merrick), Paul Kasey (Admiral Raddus), Stephen Stanton (Admiral Raddus – voice), Ian McElhinney (General Dodonna), Fares Fares (Senator Vaspar), Jonathan Aris (Senator Jebel), Sharon Duncan-Brewster (Senator Pamlo), Spencer Wilding (Darth Vader), Daniel Naprous (Darth Vader), James Earl Jones (Darth Vader – voice), Ingvild Deila (Princess Leia), Anthony Daniels (C-3PO), Valene Kane (Lyra Erso), Beau Gadsdon (young Jyn), Dolly Gadsdon (younger Jyn), Duncan Pow (Sergeant Melshi), James Harkness (Private Basteren), Derek Arnold (Pao), Matt Rippy (Corporal Rostok), Nick Kellington (Bistan), Michael Nardone (Shield Gate Officer), Nathan Plant (Imperial Guard Droid), Christopher Patrick Nolan (Alderaanian Guard), Michael Smiley (Dr. Evazan), Warwick Davis (Weeteef Cyubee), Dee Tails (L-1), Ruth Bell (Jedha Server), May Bell (Jedha Server), Angus Wright (Hammerhead Captain), Keith Dunphy (Blockade Runner Pilot), Alan Rushton (Eadu Engineer), Robert Bendetti-Hall (Eadu Engineer), Richard Franklin (Eadu Engineer), Weston Gavin (Eadu Engineer), Nick Hobbs (Eadu Engineer)
LogBook entry by Earl Green