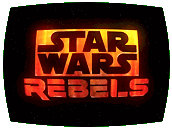 Captain Rex leads the Ghost crew to the planet Geonosis, whose Separatist insect inhabitants were lured into sparking the Clone Wars, which led directly to the Republic's transformation into the Empire. Believing that there is still a significant stockpile of Imperial material there that would be put to better use by the Rebellion, Kanan and the other rebels find themselves fighting their way out of a trap. The destruction of an Imperial orbital platform forces Zeb and Agent Kallus, the tireless pursuer of the Ghost and its crew, to share an escape pod which crashes on an icy moon of Geonosis, breaking Kallus' leg. The two bitter enemies must set aside their differences to survive even a single night there.
written by Kevin Hopps
directed by Brad Rau
music by Kevin Kiner
based on original themes and music by John Williams

Cast: Taylor Gray (Ezra Bridger), Freddie Prinze Jr. (Kanan Jarrus), Vanessa Marshall (Hera), Tiya Sircar (Sabine), Steve Blum (Zeb Orrelios), Dee Bradley Baker (Admiral Konstantine / Rex), David Oyelowo (Agent Kallus)

Notes: The episode's title is a play on the title of its inspiration, the 1958 movie The Defiant Ones, whose plot of two bitter enemies forced to depend on each other to survive has all but become a movie and film trope of its own.
LogBook entry by Earl Green