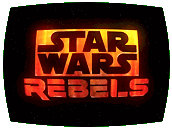 Word reaches the Rebellion that there's a dissident faction among students at an Imperial flight school, wishing to defect. Since she has prior experience as an Imperial pilot trainee, Sabine is enrolled at the school with a new identity and a cover story, and meets three pilots who want to escape the Empire and join the Rebellion. Sabine engineers an escape plan, but the Empire, aware that there are traitors in their midst and aware that a Rebel agent is among their trainees, has already planned to stop them. Ezra's impatience to get Sabine and her trio of defectors to safety is as much of a danger to the operation as the Empire.
written by Gary Whitta
directed by Saul Ruiz
music by Kevin Kiner
based on original themes and music by John Williams

Cast: Taylor Gray (Ezra Bridger), Vanessa Marshall (Hera Syndulla), Freddie Prinze Jr. (Kanan Jarrus / Imperial Technician / TIE Cadet #1), Tiya Sircar (Sabine Wren), Steve Blum (Zeb Orrelios / Green Leader), David Oyelwo (Agent Kallus), Corey Burton (Bridge Officer / Instructor Goran / Rake), Keone Young (Commander Sato), Mary Elizabeth McGlynn (Female Civilian / Governor Pryce / TIE Cadet #2), Dave Filoni (Green Five / Imperial Officer), Trevor Devall (Hobbie / Rebel Captain / Transport Captain), Mario Vernazza (Vult Skerris), Nathan Kress (Wedge Antilles)

Notes: This episode is as close as we've gotten to an origin story for (future) Rebel flying ace Wedge Antilles, as well as his fellow Rebel pilot, Hobbie, who would prove instrumental in the Battle of Hoth.
LogBook entry by Earl Green