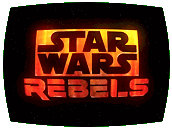 Among the items recovered from Maul's hdeout is the Darksaber, the weapon of the first Mandalorian Jedi that later became a symbol of power that once unified the Mandalorians. Since Sabine found it, it is expected that she will wield it to unite Mandalore once again, but she has not interest in doing so. This means she's appalled when Kanan and Hera suggest that she take up the role that is expected of her as the finder of the blade. Kanan takes Sabine to begin her training, enlisting Ezra's help as well, finding it difficult to teach a student with no connection to the Force. Sabine thinks the leading the Mandalorians is a task for which she'll never be ready; Kanan realizes that forgiving herself for her own past is the task at hand.
written by Dave Filoni
directed by Steward Lee
music by Kevin Kiner
additional music by David Russell, Sean Kiner, and Dean Kiner
based on original themes and music by John Williams

Cast: Taylor Gray (Ezra Bridger), Vanessa Marshall (Hera Syndulla), Freddie Prinze Jr. (Kanan Jarrus), Tiya Sircar (Sabine Wren), Steve Blum (Zeb Orrelios), Kevin McKidd (Fenn Rau)

Notes: The Darksaber was found in the Nightsisters' temple on Dathomir in Visions And Voices, but made its first appearance in the second season of The Clone Wars (The Mandalore Plot, 2010). It appeared in six further Clone Wars episodes, as well as a short series of Dark Horse comics based on unproduced scripts for a never-made seventh season of The Clone Wars.
LogBook entry by Earl Green