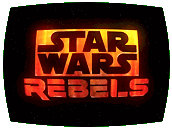 Captain Rex leads Kanan, Ezra and Chopper to a crashed Separatist ship left over from the Clone Wars, hoping that its stockpile of munitions will be intact. To his amazement, that's not all that's intact – there are still functioning Battle Droids guarding the ship, and they believe the war between the Republic and the Separatists is still on. Since he wasn't alive to experience the horrors of the Clone Wars, Ezra makes a bet with the droid army's strategist: if the Battle Droids can be beaten, Ezra and his team can take the remaining weapons back to the Rebellion. For Rex, it's a nightmare: the war that cost him so many of his friends and comrades is about to be fought again. Worse yet, the Empire arrives, and has no qualms about wiping out all of the combatants.
written by Brent Friedman
directed by Bosco Ng
music by Kevin Kiner
based on original themes and music by John Williams

Cast: Taylor Gray (Ezra Bridger), Vanessa Marshall (Hera Syndulla), Freddie Prinze Jr. (Kanan Jarrus), Tiya Sircar (Sabine Wren), Steve Blum (Zeb Orrelios / Stormtrooper #1), Dee Bradley Baker (Admiral Konstantine / Red Pauldron Trooper / Rex), David Oyelwo (Agent Kallus), Matthew Wood (B1-268 / Battle Droids), Mary Elizabeth McGlynn (Governor Pryce), Gregg Berger (Kalani)

Notes: As the episode hearkens back so strongly to the animated Clone Wars series that preceded Rebels, the end credits and music appear as they would have in an episode of that series, rather than using the standard Rebels musical theme.
LogBook entry by Earl Green