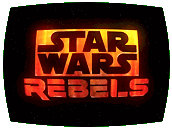 Passage through Mandalorian space near the planetary remnant Concord Dawn has once again become hostile to Rebel traffic, and Sabine pays a visit to Fenn Rau, the Mandalorian leader she captured there. Rau has no idea what has changed, but offers to return with Sabine to find out; of course, he's also planning to escape while he's there. But even Fenn Rau finds no welcoming party at Concord Dawn: the Mandalorians there have thrown their lot in with the Empire, taking up arms as Imperial Supercommandos. Anyone who doesn't join them in bowing to the Empire – even fellow Mandalorians – is marked for capture or death.
written by Christopher Yost
directed by Steward Lee
music by Kevin Kiner
based on original themes and music by John Williams

Cast: Taylor Gray (Ezra Bridger), Vanessa Marshall (Hera Syndulla), Freddie Prinze Jr. (Kanan Jarrus / Supercommando #2), Tiya Sircar (Sabine Wren), Steve Blum (Zeb Orrelios / Supercommando #1), Keone Young (Commander Sato), Kevin McKidd (Fenn Rau), Ray Stevenson (Gar Saxon), Dave Filoni (Supercommando #3)

Notes: In a bit of a meta-gag, the all-white-armored Mandalorians hearken back to Ralph McQuarrie's original design for Imperial "Supertroopers", a costume design that was earmarked for a character that came to be known as Boba Fett during pre-production of The Empire Strikes Back.
LogBook entry by Earl Green