I hang out on video and computer game collecting message boards where my friends always boast of massive hauls from garage sales, yard sales, and thrift stores, and I never have that kind of luck.
Tonight, I can report that I continue to have precisely not that kind of luck. My wife, however, is a different story. Because in addition to finding a really adorable (and, for this part of the country, kinda unusual) stuffed moose for the baby (my baby was bit by a m00s once…), she also snagged this setup for me: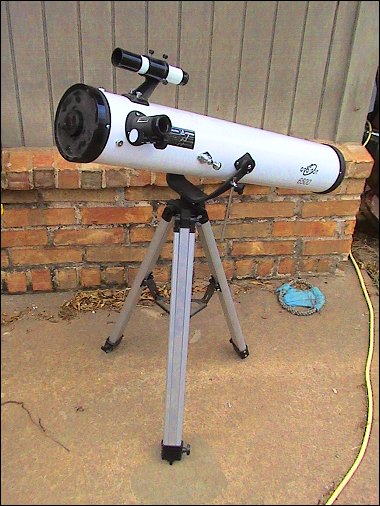 Oh, but wait, there's more…
Jan shelled out all of about $50 for this telescope; it was originally marked at about $70 and she talked the seller down at a "community yard sale" that's held by one of the more affluent suburbs along her mail route. After she forked over half a C-note for this puppy, the seller said, "Hang on, I'll get all the stuff that goes with it. You've gotta have the monitor."
(The Gamecube carrying case – now the second one in my collection – was $2.) But why in the world does one need a monitor with a telescope? It's all because of this eyepiece that comes with it: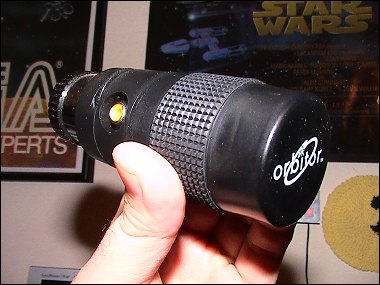 It's called the "video eyepiece." Mainly because of that video output RCA socket.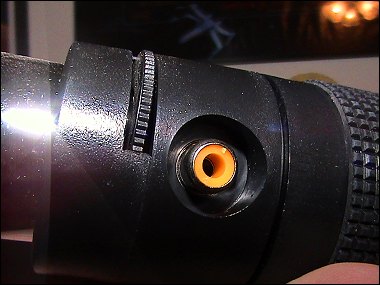 Which you then plug into the back of the little B&W monitor.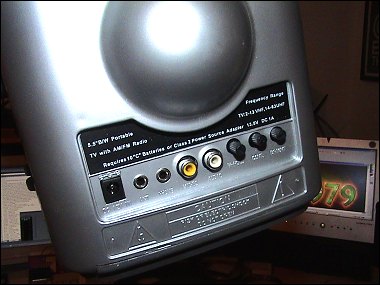 Or, dare I say it, into any available video recording device. Of which I have one or two. Somewhere.
I'm not sure yet if the CCD sensors on the "Video Eyepiece" are color or B&W, but the product is as recent as 2003 (it was manufactured by Citiwell International) and even features a digital camera adapter and clamp for the eyepiece. For those who know their telescopic devices, this one is a 4.5″ reflector with 90mm focal length and up to 675x magnification. And it has video output.
Not bad for $50. And hey, I can always find a use for a Gamecube tote (she didn't know I've already got one):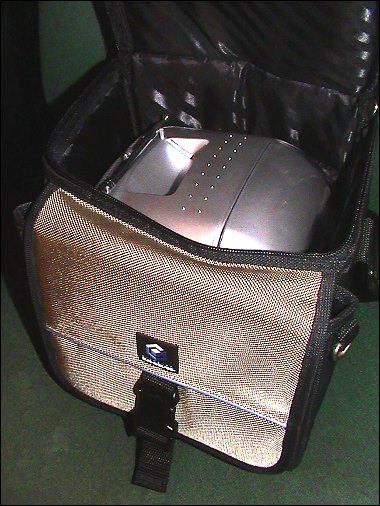 Even though I think this pretty much covers my birthday about two months ahead of time, she's sending me to this communal selling-off of stuff tomorrow to see what might be escaping from people's game rooms. Y'know, I think I'd do better to just give her a shopping list with 2600 Quadrun and Crazy Climber on it and send her instead, because she's got the mad yard sale skillz.
I'll tell you about the new lawn mower tomorrow. It's lovely, relatively quiet, and a bit more of a workout than I expected (not like that's gonna kill me – well, maybe a heart attack…), but no gasoline, no oil…which basically means I can't screw it up.
So basically, it was kinda like Christmas in July…on the day before Cinco de Mayo. There's gotta be an easier way to explain that. If you're wondering why I'm not out stargazing, I want to do some optics-polishing first, and it's "partly cloudy"…meaning "any part of the sky you might be wanting to look at? That's the part that's cloudy."
Here's an Oberon pic as a consolation prize.