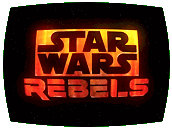 In the wake of their escape from Mustafar, Hera, Kanan and the Ghost crew have finally joined the larger Rebel Alliance, taking part in numerous space battles with Phoenix Squadron at their sides. But Kanan is uneasy about the militarization of the Rebellion, longing to get back to Lothal to help people one-on-one. A distress signal from Lothal's governor – a known Imperial sympathizer – shocks the rest of the group into agreeing with him. But Minister Tua is no longer in charge on Lothal: Darth Vader has arrived to take control of the situation, including a plan to trap the Ghost crew. As Kanan and his crew try to leave Lothal in one piece, Vader catches up to them, and Kanan and Ezra have to fight a Sith Lord for the first time, with barely-survivable results. Even once they escape, they're not free of Vader's clutches yet – and when Ahsoka reaches out with the Force to try to identify the pursuing Sith, she is horrified by what she finds.
written by Henry Gilroy
directed by Bosco Ng and Brad Rau
music by Kevin Kiner
based on original themes and music by John Williams

Cast: Taylor Gray (Ezra Bridger), Freddie Prinze Jr. (Kanan Jarrus), Vanessa Marshall (Hera), Tiya Sircar (Sabine), Steven Blum (Zeb / Alton Kastle / Imperial Technician #2 / Stormtrooper Commander), David Oyelowo (Agent Kallus), Ashley Eckstein (Ahsoka Tano), Keone Young (Commander Sato / Imperial Technician / Imperial Technician #3), James Earl Jones (Darth Vader), Sam Witwer (The Emperor / W1-LE / Imperial Technician), Billy Dee Williams (Lando Calrissian), Dee Bradley Baker (Old Jho / Stormtrooper #3 / Phoenix #3 / Admiral Konstantine / Rebel Technician), Kath Soucie (Minister Maketh Tua), Matthew Wood (Phoenix #1 / Stormtrooper / Stormtrooper #3 / Imperial Captain)

Notes: An hour-long "movie", The Siege Of Lothal serves as something of a new pilot for Rebels, recasting the Ghost crew as a band of star warriors rather than a group of resistance fighters tied to Lothal. Several more months passed before the rest of the second season began to air, with this adventure being aired as a stand-alone event.
LogBook entry by Earl Green