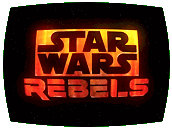 Stinging from the losses incurred by Darth Vader's attack at Lothal, the Rebel cell including the Ghost and the remnants of Phoenix Squadron limps into hiding, hoping to find a base. Ahsoka sends Kanan, Ezra and the Ghost crew to the outer rim desert planet Seelos to track down a "great military commander" she once knew, who may be able to help the Rebellion. What Kanan and Ezra find there is a leftover AT-TE "walking tank" from the Clone Wars, manned by aged Clone Troopers who want nothing to do with either the Empire or the Rebellion. Kanan, reminded of the horrors of Order 66, doesn't trust them anyway, but Ezra tries to find middle ground between the two groups. But one of the Clones still feels loyalty toward the Empire, and has sent word that the Rebels are there.
written by Matt Michnovetz
directed by Dave Filoni and Sergio Paez
music by Kevin Kiner
based on original themes and music by John Williams

Cast: Taylor Gray (Ezra Bridger), Freddie Prinze Jr. (Kanan Jarrus), Vanessa Marshall (Hera), Tiya Sircar (Sabine), Steven Blum (Zeb / Imperial Officer / Tactical Droid Head), Dee Bradley Baker (CC-3636 / CC-5576-39 / CT-7567 / Kassius Konstantine) David Oyelowo (Agent Kallus), Ashley Eckstein (Ahsoka Tano), Keone Young (Commander Sato)

Notes: Commander Rex was a mainstay of the Clone Wars animated series, appearing in a great many episodes throughout the show's run as the Clone Trooper Commander assigned to Anakin Skywalker. (Dee Bradley Baker provided the Clone Troopers' voices in that series too.) Rex says that he and his surviving comrades discovered and removed their control chips before Order 66 was issued, and did not turn against their Jedi compatriots. But this also made them likely targets of the newly formed Empire, hence the Clones' dropping out of sight on Seelos. The Clone Wars ended 15 years prior to this episode, and Kanan says that Ezra wasn't born yet, so Ezra was probably 12 or 13 years old when he joined the Ghost's crew. The Lost Commanders is part one of a two-part story further tying Rebels in to the Clone Wars animated series.
LogBook entry by Earl Green