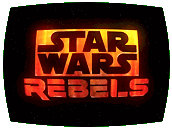 After Phoenix Squadron is reduced to half strength in a high-risk raid to move cargo to other ships in the Rebel fleet, Commander Sato tasks the Ghost crew with a challenging assignment: find a base of operations which can provide Phoenix Squadron with shelter. One promising target is a massive Imperial carrier ship which holds station over Hera's home planet of Ryloth. Hera contacts her father, Clone War hero Cham Syndulla, and tries to mend fences with him. Tiring of Imperial control over Ryloth, Cham wants to destroy the ever-present carrier rather than commandeering it… and he's willing to betray his own daughter to make sure his plan is the one that's carried out.
written by Steven Melching
directed by Bosco Ng
music by Kevin Kiner
based on original themes and music by John Williams

Cast: Taylor Gray (Ezra Bridger), Freddie Prinze Jr. (Kanan Jarrus), Vanessa Marshall (Hera), Tiya Sircar (Sabine), Steve Blum (Zeb Orrelios / Imperial Officer / Stormtrooper Commander), Corey Burton (Carrier Captain / Phoenix Three / Imperial Officer #3 / Gobi Glie), Robin Atkin Downes (Cham Syndulla / Rebel Captain / Imperial Officer #2), Keone Young (Commander Sato), Catherine Taber (Numa / Phoenix Two), Dave Filoni (Phoenix One / Stormtrooper Deck Officer)

Notes: Cham Syndulla was indeed a hero of the Clone Wars, appearing in two episodes of that series, season one's Liberty On Ryloth and season three's Supply Lines. Robin Atkin Downes, who voiced the character in his Clone Wars appearances, played the part of rogue telepath Byron in the fifth season of Babylon 5.
LogBook entry by Earl Green