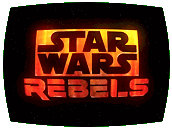 Tired of the verbal sniping between Kanan and Captain Rex, Ezra takes it upon himself to tag along with Sabine, Zeb and Chopper on a mission to an abandoned Republic base from the Clone Wars, hoping to find unused medical supplies. But there is someone already waiting for them there: two Inquisitors, each skilled in the dark side of the Force, and neither of them working together.
written by Kevin Hopps
directed by Brad Rau
music by Kevin Kiner
based on original themes and music by John Williams

Cast: Taylor Gray (Ezra Bridger), Freddie Prinze Jr. (Kanan Jarrus), Vanessa Marshall (Hera), Tiya Sircar (Sabine), Steven Blum (Zeb / Imperial Technician 1), Dee Bradley Baker (Admiral Konstantine / Rex), David Oyelowo (Agent Kallus), Philip Anthony-Rodriguez (Fifth Brother), Sarah Michelle Gellar (Seventh Sister)

Notes: Sarah Michelle Gellar starred as Buffy Summers throughout the wildly popular '90s TV series Buffy The Vampire Slayer, and is married to Rebels regular Freddie Prinze Jr., the voice of Kanan Jarrus. This is the first hint that the Inquisitor previously defeated by Kanan was the Grand Inquisitor.
LogBook entry by Earl Green