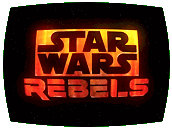 Sabine is sent on a mission to find an undercover Rebel courier carrying much-needed information, with Ezra and Chopper as backup, though they're all surprised to find that the courier is a lowly power droid – and it already has a Black Sun bounty hunter on its trail. But this bounty hunter, Ketsu, knows Sabine…because Sabine was once a fellow bounty hunter. Now Sabine must fight her old friend in order to get the droid offworld, but if there's one thing Sabine knows about Ketsu, it's that she isn't easy to lose – and she doesn't give up.
written by Kevin Hopps
directed by Bosco Ng
music by Kevin Kiner
based on original themes and music by John Williams

Cast: Taylor Gray (Ezra Bridger), Vanessa Marshall (Hera), Tiya Sircar (Sabine), Steve Blum (EG-86 Gonk Droid / Dispatch / Imperial Technician), Stephen Stanton (Imperial Officer / Pilot Droid / Stormtrooper 1), Gina Torres (Ketsu Onyo), Dave Filoni (Rodian / Stormtrooper 2)

Notes: Freddie Prinze Jr. (Kanan) does not appear in this episode, and while series regular Steve Blum does, Zeb does not. Gina Torres is best known to genre fans as Zoe Washburne from Firefly, and before that co-starred in Cleopatra 2525. R2-D2 makes an appearance at the end of this episode. The Black Sun crime syndicate is a rare callback to the pre-Disney "Legends" expanded universe, and figured heavily in such '90s fiction as Shadows Of The Empire.
LogBook entry by Earl Green