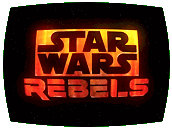 Feeling overburdened by his constant duties, whether it's Jedi training with Kanan, sharpshooting lessons with Rex, or cleaning the Ghost, Ezra yearns for the days when he was on his own. When he hears a distress signal from the ship belonging to Lothal trader boss Vizago – to whom he owes a favor – Ezra takes the Phantom (and Chopper) to go help, alone. But Vizago's ship is no longer commanded by Vizago, and Ezra has to think fast, adopting the alias of Lando Calrissian for good measure. But when he has a chance to procure just what the Rebellion needs, and finds himself up against an old enemy, Ezra yearns for the days when he had backup.
written by Bill Wolkoff
directed by Saul Ruiz
music by Kevin Kiner
based on original themes and music by John Williams

Cast: Taylor Gray (Ezra Bridger), Freddie Prinze Jr. (Kanan Jarrus), Vanessa Marshall (Hera), Tiya Sircar (Sabine), James Hong (Azmorigan), Keith Szarabajka (Cikatro Vizago), Keone Young (Commander Sato), Jim Cummings (Hondo Ohnaka), Dee Bradley Baker (Rex / Imperial Technician)

Notes: Series regular voice artist Steve Blum does not have a role in this episode. Azmorigan was last seen in season 1's Idiot's Array.
LogBook entry by Earl Green