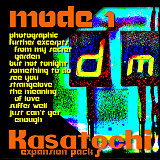 So you just can't get enough of Kasatochi, and you need something to do? Fine, fine, but not tonight. How about today? How about an Expansion Pack EP of chiptune covers centered on a particular group whose sound has always been on the electronic side of things? This ought to be interesting. It might even breathe some new life into things, or it might annoy some fans of said group, who harbor a kind of strange love for everything they do. There's only one way to find out.
1 – Photographic
2 – Further Excerpts From My Secret Garden
3 – New Life
4 – But Not Tonight
5 – Something To Do
6 – See You
7 – Strangelove
8 – The Meaning Of Love
9 – Suffer Well
10 – Just Can't Get Enough
There's a definite focus on the group's early years, which – despite all the technical advances that have lent them a more layered sound in their more recent works – I've always preferred. There's a certain bouncy, innocent simplicity to the early stuff that lends itself immediately to the kind of minimalism to which Kasatochi subjects everything. That being said, I also included one song that's much more recent than the rest, primarily because it's a personal favorite of mine. And yes, the title leaves the door open to revisiting this group's output again at a later date…
Go grab it from the dedicated Kasatochi page, which now has a second page just waiting for future releases. Next week, it will be as if millions of square waves suddenly bleeped in terror, and were suddenly silenced. Enjoy that silence!