One of the cats woke me up shortly before 2am. She was very insistent about it. She then led me into my room and jumped up on my desk, drawing my attention to the giant bow echo that's on a beeline for us by way of Tulsa and OKC. Fascinating. Is the weather radar display on enough that even a cat has some inkling as to how to interpret it, just from sheer repeat exposure? It'll be interesting to see if this is a recurring phenomenon.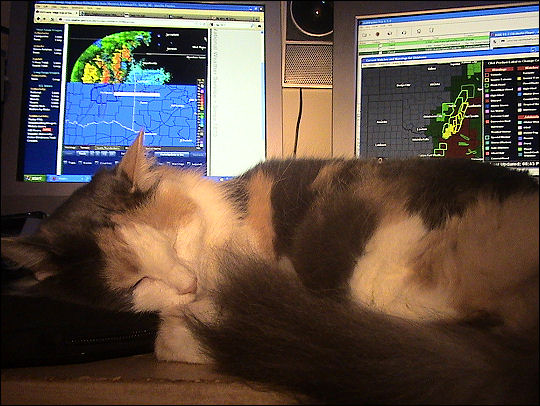 And yes, it was actually this cat
Cute kittehs with awareness of severe weather could really shake up the TV WX biz, too. *rubs hands together greedily* Contact me the Green Agency for more information. We have a variety of photogenic weather kittehs available to do custom forecasts and weather cut-ins.