Easter wasn't quite happy at our house. After spending the day with family doing Easter egg hunts, watching the boy rack up his usual impressive number of presents and consuming inadvisable amounts of candy, we went home where our dogs greeted us at the door. As usual, Gabby was all over Little E and got scolded for it. She always acts like she's supposed to walk in the front door with us.
Maybe this time we should've let her.
Not even ten minutes after we got inside, there was a thump and a dog yelp outside. We ran outside as fast as we could to see what happened, because it sounded like Gabby was in trouble. She was nowhere to be found. Xena sat in the front yard looking worried. It sounded like someone had just run over our dog.
I walked and drove up and down our street and beyond, looking for any sign of her – maybe she was rolled off into a ditch, maybe there'd be a sign of hair or, worse, blood. But there wasn't anything, no trail to follow. We kept looking until after dark, and finally reality set in. There was work to go to on Monday, and there was school to go to on Monday. We had to go to bed and hope Gabby could make it home… or at least hope that she wasn't in pain.
I tried to sleep. I couldn't. I went outside several times in the hope that maybe there would be two dogs in the yard.
Shortly after five in the morning, Xena suddenly began barking, and another dog who obviously wasn't Xena answered. I looked out front, and didn't even see Xena. I looked out on the back deck, and saw both of them. Gabby was crashed out in Xena's doghouse. Upon closer inspection with a flashlight, Gabby was not in good shape. There were numerous places where her skin was exposed, and a couple of places on her right rear leg where I could see muscle and bone. I poured some dog food out for Gabby, and she hobbled over to it on three legs, putting no weight on the right rear leg: broken. I took her into the house and laid a blanket out for her on the living room floor, and she hobbled over to it and laid down, taking a great deal of effort to get off of the three good legs she'd just taken so much effort to raise herself up on.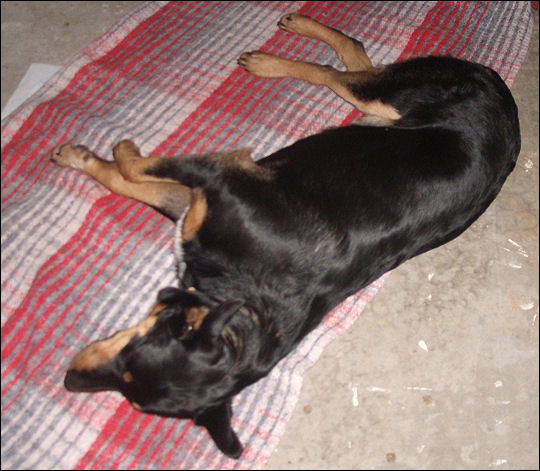 (This picture was taken from the least-alarming angle – the damage is inside both rear legs and the back of her belly.)
The whole time, her tail was wagging in its usual short little orbit and she seemed more concerned with licking my face and hands than with anything that had happened to her.
Wherever she had been left after being hit, it took her nearly 12 hours to get home on those three legs.
We've scolded Gabby about her habit of trying to catch passing cars, to no effect; sooner or later it seemed pretty certain that she'd catch one. Lucky for her, it let her go after she caught it.
We'll see what the vet says (and charges) shortly.