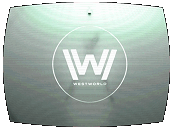 New players arrive at Westworld, ready to try their hand at lawless frontier life. William, coaxed into visiting Westworld by his wife's brother, is reluctant to indulge in the seedier side of the park's offerings, whereas most of the park's typical storylines and diversions are simply too tame for his brother-in-law, who urges him to go "black hat". A chance exchange between Dolores and Maeve fills Maeve's head with strange thoughts, and like Dolores, she begins remembering past scenarios that have supposedly been wiped from her memory. Westworld's board of directors grows restless about return business, and an ambitious young scenarist devises and proposes a new plotline for the park, which Ford promptly shoots down on the ground that obvious, tawdry thrills are not what Westworld is about. As she is being cleaned and prepared for another day's duty in the park, Maeve awakens in a strange new world – one in which she sees fellow hosts being treated like objects.
written by Jonathan Nolan & Lisa Joy
directed by Richard J. Lewis
music by Ramin Djawadi

Cast: Evan Rachel Wood (Dolores Abernathy), Thandie Newton (Maeve Millay), Jeffrey Wright (Bernard Lowe), James Marsden (Teddy Flood), Ben Barnes (Logan), Clifton Collins Jr. (Lawrence), Luke Hemsworth (Stubbs), Sidse Babett Knudsen (Theresa Cullen), Simon Quarterman (Lee Sizemore), Angela Sarafyan (Clementine Pennyfeather), Jimmi Simpson (William), Shannon Woodward (Elsie Hughes), Ed Harris (The Man in Black), Anthony Hopkins (Dr. Robert Ford), Ptolemy Slocum (Sylvester), Leonardo Nam (Lutz), Talulah Riley (Angela), Louis Herthum (Peter Abernathy), Oliver Bell (Little Boy), Izabella Alvarez (Lawrence's Daughter), Olga Aguilar (Lawrence's Wife), Price Carson (Barkeep), Christopher Cedeno (Last Gunman), Sal Lopez (Cigarillo), Will Pinson Rose (Behavior Tech), Eric Ramey (Narrative Tech), Nanrisa Induk Lee (Narrative Tech), Carlos E. Campos (Surveillance Tech), Tai Bennett (Controller), Diana Toshiko (Costumer), Kiki McCleary (Stewardess), Jackie Moore (Mariposa Girl), Nathalia Castellon (Mariposa Girl), Patrick Gorman (Eye Patch), Josh Clark (Sheriff Reid), Granville Ames (Union Recruiter), Bradley Fisher (Mariposa Bartender), Tim Fox (Burley Guest), Christine Weatherup (Female Guest), Lucas Peterson (Shy Guest), Michael L. Bash (Spellbound Guest), Jasmyn Rae (Homestead Girl)

Notes: Making the first of two appearances in the first season of Westworld is actor Josh Clark, who appeared as Lt. Carey in several episodes of Star Trek: Voyager and, ironically, as another sheriff in several episodes of Heroes. He's also appeared in Babylon 5, Millennium, Mad Men, and Agents Of SHIELD. Granville Ames is a fellow veteran of both Babylon 5 and the Star Trek franchise.
LogBook entry by Earl Green