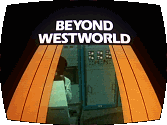 Weighed down by gambling debts, Nick Stoner is a rarity: an heir to an oil fortune who's out of money. His sober-minded brother Dean runs the family business, and has bailed Nick out of trouble repeatedly. But someone else knows about this dynamic: Quaid zeroes in on Nick, offering to clear all of his debts permanently. All Rick has to do is sign over the entire oil operation to Quaid, and he happily signs his name since, as only half-heir, the family fortune isn't his to give away – the agreement is invalid. It's not until later that he realizes that a hit will now be out on Dean; if his brother dies mysteriously, Nick really has handed Stoner Oil over to Quaid. John Moore and Delos are contacted, since Quaid almost certainly has robots in place to carry out the hit on Dean. With Special Agent Pam Williams helping undercover, Moore has to figure out which member of a pro football team owned by Dean Stoner is the killer.
teleplay by Lou Shaw
story by Howard Dimsdale
directed by Rod Holcomb
music by George Romanis

Cast: Jim McMullan (John Moore), James Wainwright (Simon Quaid), Connie Sellecca (Pamela Williams), William Jordan (Joseph Oppenheimer), Christopher Connelly (Nick Stoner), Jeff Cooper (Dean Stoner), Denny Miller (Earl Case), John Shearn (Jason), Jack Carter (Charles Vincent), Delvin Williams (End), Anthony A.D. Davis (Mike Roth), Bobby Van (Danny), Severn Darden (Foley), Ann McCurry (Roberta), Greg Lewis (Stickman), Inga Nielsen (Woman), William Elliott (Police Offier), Ben Fuhrman (Security Guard), David Bedell (Reporter)

Notes: Replacing the female lead in this first post-pilot episode is future Greatest American Hero co-star Connie Sellecca. Her character has a past with Moore (apparently both a working and a romantic past) and a past with Quaid (from prior work at Delos). Former Dobie Gillis star and game show host Bobby Van makes one of his final appearances here, shortly before his death of a malignant brain tumor in July 1980 (he had been diagnosed in 1979 and continued working). One of the former stars of Wagon Train, Denny Miller (1934-2014) also appeared in Voyagers!, Buck Rogers In The 25th Century, Quark, The Six Million Dollar Man, Battlestar Galactica, and the original V miniseries. Real football players Anthony Davis (formerly of the Tampa Bay Buccaneers, the L.A. Rams and the Houston Oilers) and Delvin Williams (San Francisco 49ers, Green Bay Packers, Miami Dolphins) appear as members of Dean Stoner's unspecified (but presumably pro) football team.
LogBook entry by Earl Green