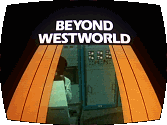 Westworld has fallen. Security consultant John Moore, who set up security measures for Westworld before it opened, is brought in to help Delos Corporation account for all of the robots left over from Westworld. Simon Quaid, a brilliant but twisted cyberneticist who helped Joseph Oppenheimer create the Westworld robots, is fully capable of reprogramming any of them to do his bidding – including infiltrating the crew of a Navy nuclear submarine. Moore gets a crash course in how the robots work, and how there's no one handy way to shut them all down: different robots have different programs, hardware and abilities for different tasks, and a different way must be found to shut down each one. Moore and a member of Delos, Laura Garvey, get special clearance to be aboard the sub before it ships out to sea…and once there, even if the robot is found, Moore will have to improvise quickly to keep it from nuking the mainland United States.
written by Lou Shaw
directed by Ted Post
music by George Romanis

Cast: Jim McMullan (John Moore), James Wainwright (Simon Quaid), Judith Chapman (Laura Garvey), William Jordan (Joseph Oppenheimer), Stewart Moss (Foley), Dennis Holahan (Captain Farrell), Morgan Paull (Parker), John Kirby (Dudley), Paul Henry Itkin (Horton), Mo Lauren (Jan), Nancy McCurry (Roberta), Nicholas Guest (Sailor), Larry Levine (Technician), Cassandra Peterson (Dance Hall Girl), Edward A. Coch Jr. (Chubby Gunman), Alex Kubik (Gunfighter)

Notes: Produced by Star Trek veterans John Meredyth Lucas and Fred Freiberger, Beyond Westworld actually has very little to do with Westworld itself; it uses Westworld as a "home base" for its recurring villain, and features "control room" footage from the 1973 movie. Perhaps most curiously of all, where Westworld took place in an unspecified future era where hovercraft travel is the norm, Beyond Westworld curiously rewinds things and places it in a setting much closer to the modern day. And yes, that is a pre-Elvira Cassandra Peterson in a background part, and you do hear the familiar Enterprise bridge background sound effects in the Westworld control room – just the latest of a long string of appearances in other series since Star Trek had gone off the air in 1969. Somewhat unenviably stepping into the shoes of Yul Brynner for the small screen is actor Alex Kubik in an early TV role; he went on to appear in CHiPS, Airwolf, The Dukes Of Hazzard and Knight Rider.
LogBook entry by Earl Green