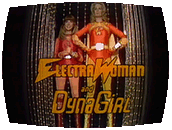 The theft of an ancient Egyptian artifact from the city museum is but the first indication that a criminal genius who calls himself the Pharaoh is on the prowl. He already has a weapon at his disposal that temporarily paralyzes his victims, but the Pharaoh craves more than that. He means to resurrect a powerful force from the legends of ancient Egypt, but he lacks the incantation to summon it. Electra Woman and Dyna Girl are ready to fight to make sure it stays that way.
written by Greg Strangis
directed by Jack Regas
music not credited

Cast: Deidre Hall (Lori / Electra Woman), Judy Strangis (Judy / Dyna Girl), Norman Alden (Frank Heflin), Peter Mark Richman (The Pharaoh), Jane Elliot (Cleopatra), H.B. Haggerty (Museum Guard)

Notes: This was an early writing gig for Greg Strangis, who had also written an episode of Land Of The Lost for the Krofft brothers. He would go on to create the TV version of War Of The Worlds in the late 1980s, in addition to serving very briefly as one of several "creative consultants" during the troubled first season of Star Trek: The Next Generation. It probably didn't hurt that he happened to be the nephew of Judy "Dyna Girl" Strangis. Guest star H.B. Haggerty would go on to appear in many a tough-guy role, including Tigerman on Buck Rogers In The 25th Century.
LogBook entry by Earl Green