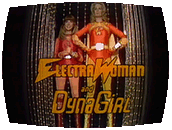 Though Frank can only be of minimal help to Electra Woman and Dyna Girl, they manage to escape the Pharaoh's latest trap. Just as he as within reach of the Coptic Eye, an ancient Egyptian relic of great power, the Pharaoh finds himself trapped, buried alive with an artifact that's now useless. The catch? Electra Woman and Dyna Girl can't escape either…and if they do, they risk releasing the Pharaoh's evil upon the world again.
written by Greg Strangis
directed by Jack Regas
music not credited

Cast: Deidre Hall (Lori / Electra Woman), Judy Strangis (Judy / Dyna Girl), Norman Alden (Frank Heflin), Peter Mark Richman (The Pharaoh), Jane Elliot (Cleopatra), Sterling Swanson (Mr. McLintock), Marvin Miller (Narrator)

Notes: This is the final episode of the series.
LogBook entry by Earl Green