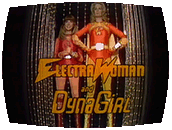 Electra Woman, Dyna Girl and King Alex escape from Glitter Rock's trap, but they still haven't recovered the jewel from the king's key. Glitter Rock plans to use the rare gem to power a satellite that he will launch into orbit, broadcasting his mind-controlling rock 'n' roll to the entire world. After King Alex saves them from that mind control, Electra Woman and Dyna Girl fly the Electra Plane into the stratosphere to intercept the satellite.
written by Dick Robbins and Duane Poole
directed by Chuck Liotta
music not credited

Cast: Deidre Hall (Lori / Electra Woman), Judy Strangis (Judy / Dyna Girl), Norman Alden (Frank Heflin), John Mark Robinson (Glitter Rock), Jeff David (Side Man), Michael Blodgett (King Alex)

Notes: The "satellite" is clearly a plastic model of an Apollo lunar lander; a similar model was used heavily in another Krofft series, Far-Out Space Nuts, which had aired the previous fall on CBS.
LogBook entry by Earl Green