Because everything goes better with blaster beam. Well, maybe not everything. I'm not going to drop some beam on top of "Call Me Maybe" (though I've no doubt it would be an immense improvement). The song has to have a sound that lends itself to having this weird sound in the middle of it – there has to be a certain style of arrangement and, you know, it wouldn't hurt if it fit thematically. Yesterday's Edgar Allan Poe-flavored selection was almost tailor-made for this experiment, but I wasn't going to give up on my favorite band just yet.
It turned out that I had been trying to tiptoe around committing sacrelige. Because, you see, I've gone and added blaster beam to my all-time favorite song, by anyone, ever.
I think I was subconsiously keeping it off the list, in the "do not touch" column. But it's practically a science fiction short story set to music, one of the least "fluffy" ELO songs there is (though I still adore the Gershwin-esque bits that break up the pure despair). It's pretty and yet a bit harrowing.
Listen here:
[audio:https://www.thelogbook.com/earl/podcast/missionbeam.mp3]
This song also posed a big problem: it builds up to a beautiful, densely-orchestrated crescendo in its last third – and after several attempts of trying to cut through that without mixing my goofy samples over the top of it, I decided to back off and let the song finish on its own. I couldn't get anything through the wall of sound in that part of the song, but I had fun adding stuff to the first two-thirds that hover somewhere between "unearthly" and "sinister"; there was more of a conscious attempt to "play the song" with the samples here, but it's more a case of "follow the bass line."
For those wondering what I'm looking at when I do this weird stuff to perfectly nice songs, here's a look at the event timeline: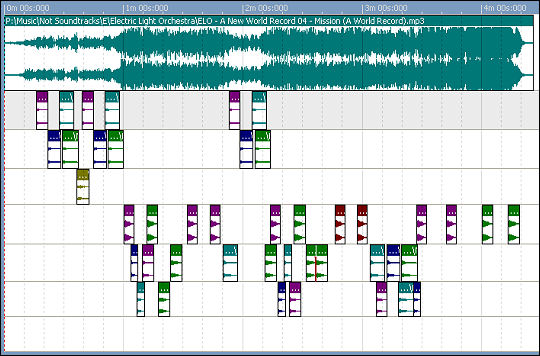 Credit where it is due:
"Mission (A World Record)" was written and sung by Jeff Lynne. Orchestral arrangement by Louis Clark. Recorded at Musicland Studios, Munich, in 1976, produced by Jeff Lynne and engineered by Reinhold Mack. I used the 2006 remaster, which, somewhat unforuntately, seems to be a casualty of the loudness wars.
The blaster beam was sampled from the "Star Trek: The Motion Picture" soundtrack, composed & conducted by Jerry Goldsmith. The beam was performed by Craig Huxley, engineered by Bruce Botnick. I used samples from the track "Beams & Synthesizers for V'ger" from the 2012 remastered edition, and altered pitch and duration in Nero Wave Editor. Full mix done in Nero Soundtrax.