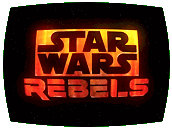 Tarkin is transporting Kanan to the planet Mustafar in a fleet of Star Destroyers, with the Inquisitor continuing to torture the Jedi along the way. With a stolen Imperial transport (and a TIE Fighter that Zeb and Ezra didn't crash after all), the crew of the Ghost sets out on their riskiest mission yet, one which hinges entirely on Ezra's ability to sense Kanan with the Force. The Rebels fight their way aboard Tarkin's Star Destroyer, but Ezra must set out alone to find Ezra – and fight the Inquisitor alongside his fellow Jedi. Against two Jedi, even with limited training, the Inquisitor is outmatched, but promises that something even more powerful will follow in his footsteps. An entire Rebel fleet blasts out of hyperspace to rescue Kanan and his crew from Mustafar, and once back aboard the Ghost, he and the others meet Fulcrum in person: a Jedi survivor of the Clone Wars named Ahsoka Tano. But unknown to Ahsoka, the man she once knew as her Jedi mentor has been summoned to quash the rising rebellion on Lothal…
written by Simon Kinberg
directed by Dave Filoni
music by Kevin Kiner
based on original themes and music by John Williams

Cast: Taylor Gray (Ezra Bridger), Freddie Prinze Jr. (Kanan Jarrus), Vanessa Marshall (Hera), Tiya Sircar (Sabine), Steven Blum (Zeb / Stormtrooper #1 / Stormtrooper #3 / Imperial Crewman)), David Oyelowo (Agent Kallus), Phil LaMarr (Bail Organa / Bridge Official / Official), Dee Bradley Baker (Ephraim Bridger), Ashley Eckstein (Fulcrum / Ahsoka Tano), Stephen Stanton (Grand Moff Tarkin / Stormtrooper #2), Kath Soucie (Mira Bridger), Peter MacNicol (Tseebo), Jason Isaacs (The Inquisitor)

Notes: Where previous episodes made vague references to the Clone Wars, this story reveals that Rebels is part of the same timeline as the much-loved (but recently concluded) Star Wars: The Clone Wars animated series. (The then-recent acquisition of Lucasfilm and the Star Wars properties by Disney had left some doubt about whether the pre-Disney Clone Wars series was still "official".) Ashley Eckstein returns to the role of Ahsoka, who would become a regular fixture of Rebels in its second season.
LogBook entry by Earl Green