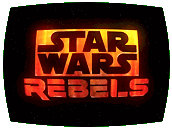 No sooner have Hera, Sabine and Ezra barely survived their latest mission, another mission beckons, all based on intelligence from a mysterious Rebel source known only as Fulcrum. Sabine, tired of the secrecy, tags along with Hera to find out who Fulcrum is and why their intelligence so often leads the Ghost's crew into danger. The payoff for Sabine's curiosity? More danger, and this time from a source that can't be reasoned with, as the two are surrounded by wild animals and stranded without fuel.
written by Kevin Hopps
directed by Steward Lee
music by Kevin Kiner
based on original themes and music by John Williams

Cast: Taylor Gray (Ezra Bridger), Freddie Prinze Jr. (Kanan Jarrus / Stormtrooper 1), Vanessa Marshall (Hera), Tiya Sircar (Sabine), Steven Blum (Zeb)

Notes: Despite the mention of the abandoned outpost as a strategic site in the Clone Wars, it had not appeared at any point during the Clone Wars animated series. For the first time, a clear chain of command is in evidence, with Kanan commanding the missions while Hera commands the Ghost. This is the first episode of Rebels to mention Fulcrum, whose identity is revealed in the season finale.
LogBook entry by Earl Green