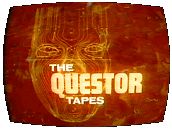 Following the mysterious disappearance of its creator, Nobel-prize-winning physicist Dr. Emil Voslovik, work continues in his absence to complete his final creation: a sentient android. A team of university researchers with corporate and international sponsors attempts to complete construction of the Questor android, but decide not to use the programming prepared by Voslovik. Voslovik's assistant, engineer Jerry Robinson, protests the sudden swap of programs, but it turns out that his fears are unfounded: Questor does not activate after receiving the substitute program. Even when the correct program is loaded, Questor shows no signs of life. The team constructing Questor adjourns, with team leader Darrow suggesting that the android should be dismantled, as the advanced technology developed by Voslovik still has some value. Unknown to the scientists, Questor gains consciousness later that night, using specialized tools to mold his plastic appearance into a much more human form, but his speech and mannerisms remain robotic. As part of his programming, he immediately seeks out Jerry Robinson to ask for help in finding Dr. Voslovik.
Initially skeptical of Questor's identity and his purpose, Robinson reluctantly gives in to the android's demand to travel to London to search for Voslovik, finding out along the way that Questor has enormous strength and agility, but no capacity for emotion, and a near-total reliance on Robinson for moral guidance. Darrow, having grown suspicious of Robinson even before Questor's surprise awakening, instigates an international manhunt for Questor and Robinson, and the two have to lie low in London. Their search leads them to the estate of Lady Helena Trimble, a woman with far-reaching connections but, seemingly, no political ambitions. In a secret chamber on her estate, Voslovik has constructed (and, apparently, abandoned) a surveillance center capable of peeking in on governments, individuals, and nations, with an interface specifically designed for Questor. Unnerved by the implications of this, Robinson loses his nerve and tips off Darrow to Questor's location.
Questor reveals that he is designed to self-destruct within three days, via a catastrophic overload of his internal nuclear furnace, unless he locates Dr. Voslovik, and Robinson warns Darrow of the impending disaster. Having expressed a fascination with boats for the entire duration his search, despite repeated assurances that Voslovik wasn't fond of going near water, Questor suddenly pieces the clues together and demands passage to Turkey, where he and Robinson climb to find a vast, hidden chamber within Mt. Ararat, trailed by Darrow the entire time. Questor finally locates Dr. Voslovik, moments away from death, and learns of his origins, a secret directly tied to the future of the human race.
teleplay by Gene Roddenberry and Gene L. Coon
story by Gene Roddenberry
directed by Richard A. Colla
music by Gil Melle

Cast: Robert Foxworth (Questor), Mike Farrell (Jerry Robinson), John Vernon (Dr. Darrow), Lew Ayres (Dr. Voslovik), James Shigeta (Dr. Chen), Robert Douglas (Dr. Michaels), Dana Wynter (Lady Helena Trimble), Majel Barrett (Dr. Bradley), Ellen Weston (Allison Sample), Reuben Singer (Dr. Gorlov), Fred Sadoff (Dr. Audret), Gerald Saunderson Peters (Randolph), Walter Koenig (Administration Assistant), Eyde Girard (Stewardess), Alan Caillou (Immigration Official), Lal Baum (Colonel Hendricks), Patti Cubbison (Secretary)

Notes: Co-writer Gene L. Coon was one of the driving creative forces behind the original Star Trek, responsible for such episodes as Arena, Space Seed, The Devil In The Dark, Errand Of Mercy, and Metamorphosis; under the pseudonym Lee Cronin, he also contributed later scripts such as Spock's Brain. He is often credited as the creator of the Klingons and the contributor of such concepts as the Prime Directive. He died of cancer in 1973, several months before the premiere of The Questor Tapes. Walter Koenig gets a blink-and-you'll-miss-it walk-on as the assistant who gives Jerry Robinson's credentials to Darrow – it's easy to miss him behind the giant '70s sideburns and moustache.
LogBook entry by Earl Green