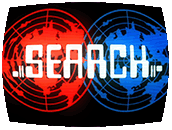 The most recent Apollo mission to the moon has brought back an enormous chunk of diamond found on the lunar surface. The sample of moon rock is so valuable that World Securities Corporation had to be entrusted with transporting it upon its arrival on Earth…and somehow it was misplaced. Fearing the effect on the world's economy if the huge diamond hits the black market, PROBE Control dispatches Lockwood to find and retrieve the otherworldly treasure…with the full understanding that it represents a fortune for which some men would gladly kill.
written by Leslie Stevens
directed by William Wiard
music by Dominic Frontiere

Cast: Hugh O'Brian (Hugh Lockwood), Burgess Meredith (Cameron), Jo Ann Pflug (Dr. Trapnell), , Ann Prentis (Annie Mulligan), Ford Rainey (Dr. Barnett), George Pan (Abbas Mirzah), Leo G. Morrell (Colonel Mirzah), Alizia Gur (Deva Siri), David Mauro (Dimas), William Wintersole (Dr. Van Owen), Joshua Bryant (Air Reservationist), Dee Gardner (Stewardess), Anakorita (Stewardess), Ron Castro (Carlos), Byron Chung (Kuroda), Ginny Golden (Keach), Albert Popwell (Griffin)

Notes: Lockwood sarcastically comments "book me on the next Apollo"…but there was only one Apollo lunar mission remaining (December 1972's Apollo 17 flight) at the time of this episode's broadcast. The remaining Apollo flights from 1973 to 1975 ventured no further than low Earth orbit. Lockwood apparently enjoys slow-dancing to an easy-listening version of the Search theme music.
LogBook entry by Earl Green