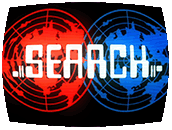 The enigmatic Dr. Carl Mowen, one of the architects of PROBE Control, goes rogue, taking with him an invention called Megatrans, which can shut down an entire national power grid with microwave radiation. Backup PROBE agent C.R. Grover is called into action to assist the agent already on the case, only to discover that the primary agent has died under mysterious circumstances: Grover is now the man on the spot. Mowen drops, via parachute, a Megatrans device which kills all electrical power at an entire airport, and promises that his next target is PROBE Control. Grover races to stop Mowen before he can get close to PROBE's home base in the World Security Corporation building, but it's inevitable that the desperate fight to save the lives of everyone in PROBE Control will be fought on home turf.
written by Leslie Stevens
directed by Allen Reisner
music by Dominic Frontiere

Cast: Doug McClure (C.R. Grover), Burgess Meredith (Cameron), Marianne Mobley (Lilia Mowen), Jeff Corey (Dr. Carl Mowen), Nate Esformes (Landis), Carol Jean Norman (Car Rental Girl), Read Morgan (Flight Officer), Ed Arnold (News Commentator), Barbara Rucker (Student), Suan Damante (Picnic Girl), Tony de Costa (Ramos), Amy Farrell (Murdock), Ginny Golden (Keach), Albert Popwell (Griffin), Keone Young (Nagada)

Notes: This episode introduces the third of Search's three recurring agents in the form of Doug McClure (one of the stars of The Virginian); director Allen Reisner once directed McClure in an episode of The Twilight Zone (Mr. Denton On Doomsday). Jeff Corey (1914-2002) had already guest starred in Star Trek (The Cloud Minders), The Outer Limits (O.B.I.T.), and Night Gallery, in addition to dozens of movie roles, and would go on to guest on The Six Million Dollar Man, The Bionic Woman, Starman, Babylon 5, and Charmed.
LogBook entry by Earl Green