In February, the fine folks at Oklahoma City's Starbase Studios announced another of their open house events, during which all and/or sundry are invited to tour their exquisitely detailed replicas of the original Star Trek shooting sets, free of charge (though it's hoped that visitors might be impressed enough to drop a few coins in the hat, donating to the upkeep of those sets so future fan-made productions can make use of them. My wife was pregnant with Little C when Little E and I tagged along with some friends to visit the sets last year, and that was before they had built sickbay and started work on a transporter room (!). There was no way she was going to miss out on this open house.
As the date got closer, Little E expressed disappointment that we weren't going to repeat the entire trip with the Martins – i.e. Friday night at Arkadia Retrocade, and a visit to the Stafford Air & Space Museum in Weatherford, Oklahoma (almost an hour further west from OKC). Since he was so keen on doing it all again, we reserved a hotel room in Weatherford and decided to make it a whole geeky weekend getaway. (It should be pointed out that the timely arrival of a tax refund was pretty much the pivot point where we went from "go to OKC and back" to "make a whole weekend of it.")
What follows is a ridiculous record – over 60 photos – of the geeky weekend in question. Ready to beam up and go to the moon?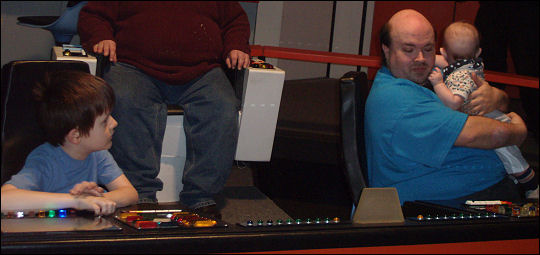 Click on any photo below for the full-size version – I took "the good camera" this time and didn't rely on my phone for much of the picture-taking this time around.
Arkadia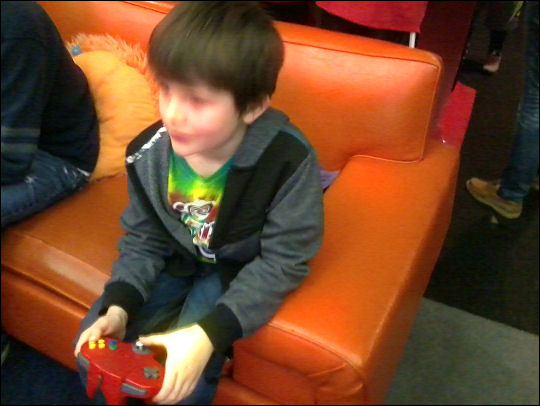 Going to Arkadia is always a blast. I could roll my eyes at the fact that, in a room full of real live coin-ops, Little E makes a beeline for the couch at the back to take on all comers at Super Smash Bros. on the N64, but you know what? He's still gaming in a social space and tries to make friends with everyone (while also trying to kick their butts). He has fire in his eyes, and fries in his belly.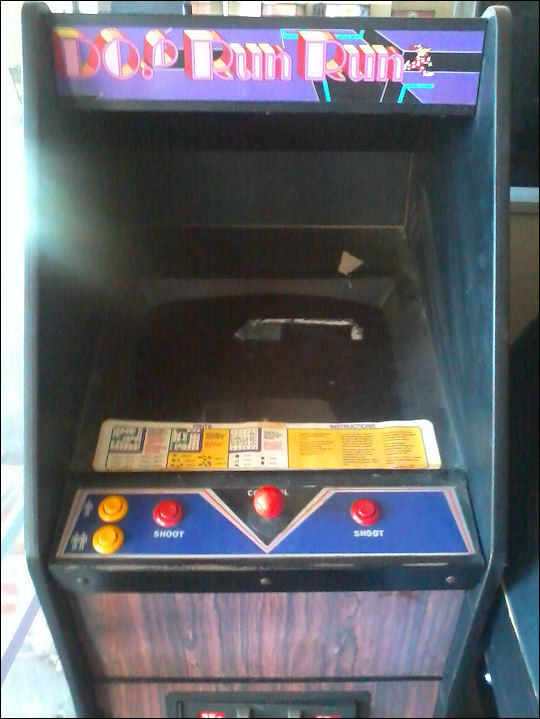 And Arkadia suddenly has one of daddy's all-time favorite arcade games, ever…

…along with Mappy, with its cute critters and giant cartoon marquee. #mousepolicelivesmatter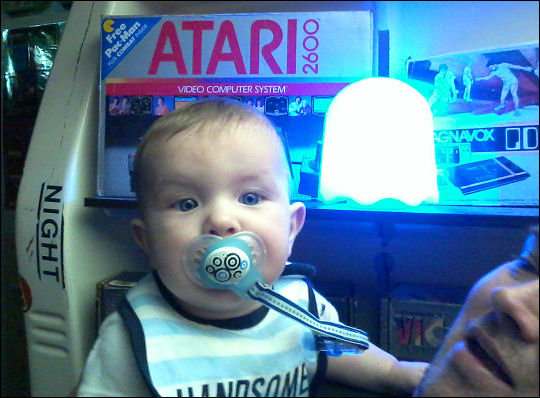 And how did Little C like his first visit to Arkadia? He loved it. He even got to watch while I played a surprisingly good game of Jr. Pac-Man while holding his wiggly little butt.
Starbase Studios Tour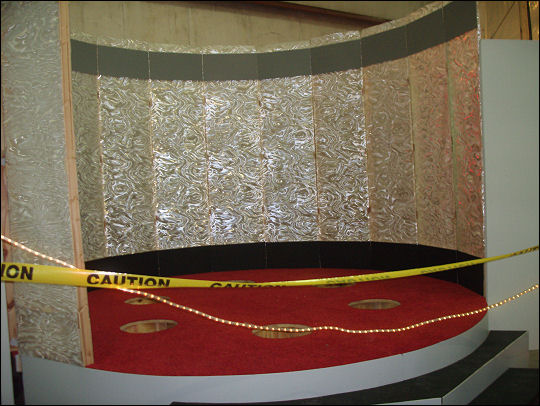 Saturday morning, we planned to beam to OKC for the Starbase Studios open house. Sadly, their transporter room is a work in progress, so we had to drive.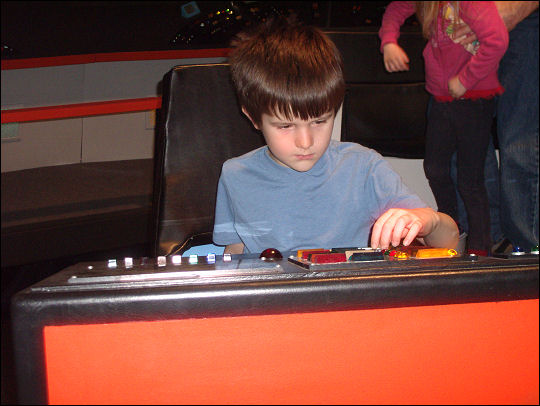 Little E was happy to lay in the coordinates for the trip. Engage!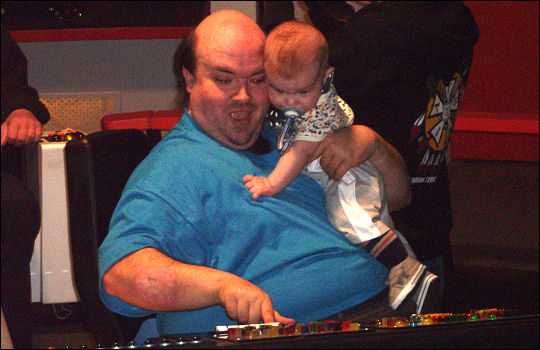 Little C and me press the "engage" button.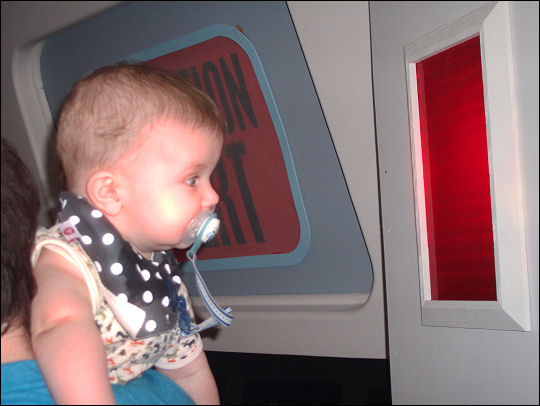 Ummm…dad? That wasn't the "engage" button.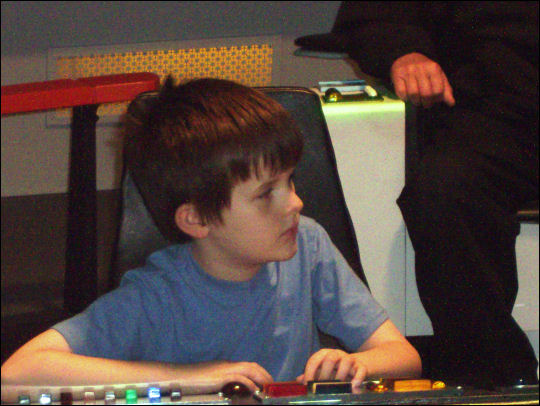 Oh geez. Dad blew up another planet.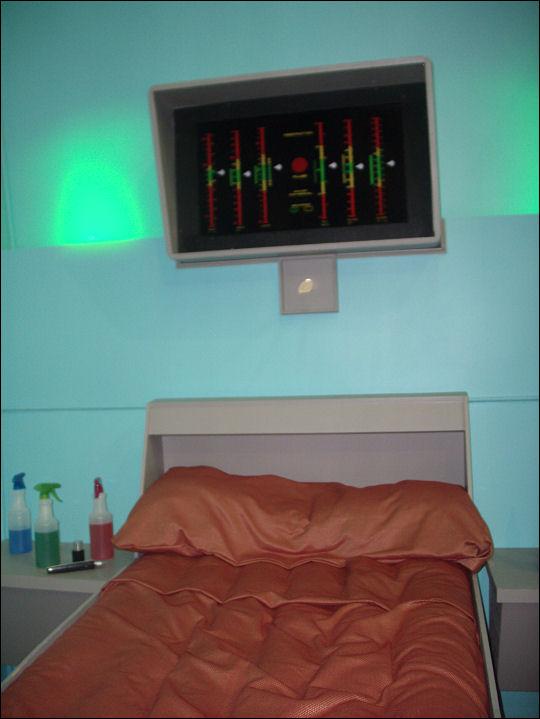 Sick bay is coming along nicely.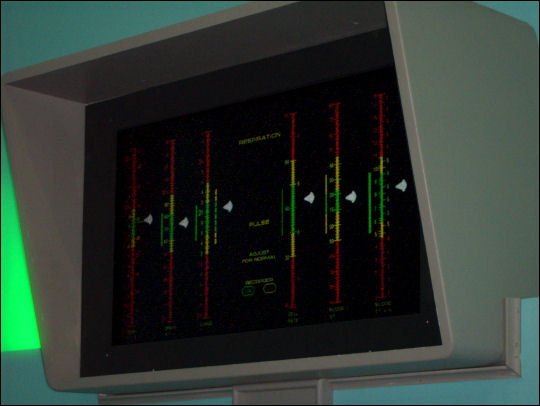 Apparently we survived the trip with our vital signs intact.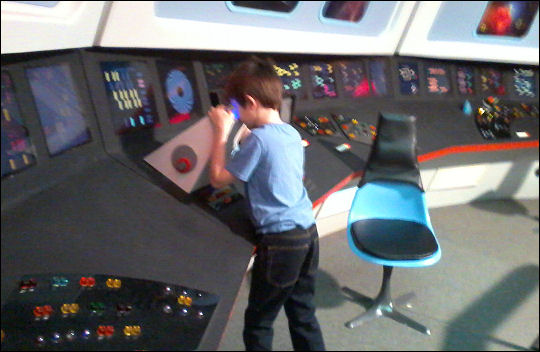 Little E checks for signs of intelligent life.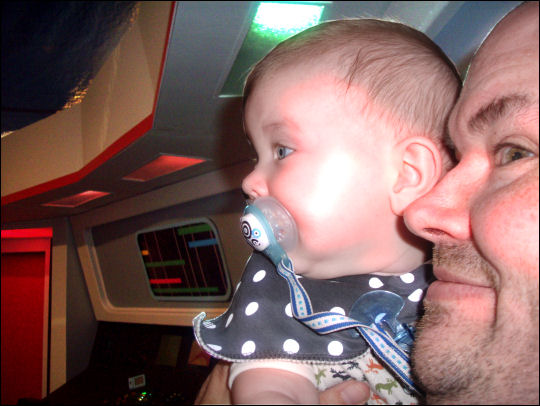 I know there's at least one live specimen right here next to me.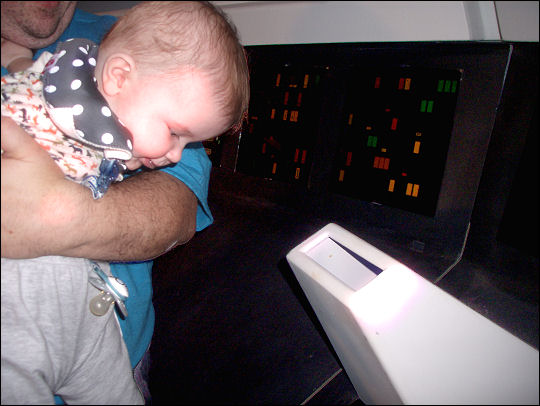 Sensors indicate… my diaper… is… totally full.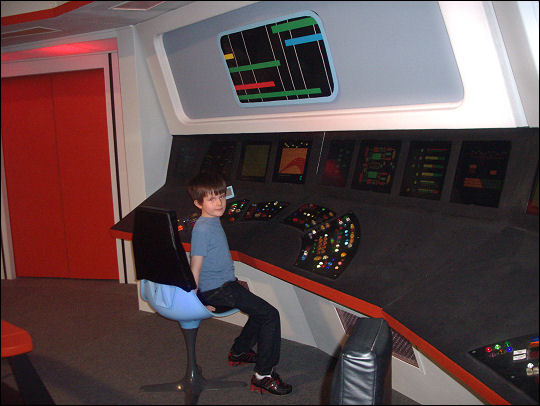 Captain, my dad recommends asking you if you've tried turning the ship off and back on.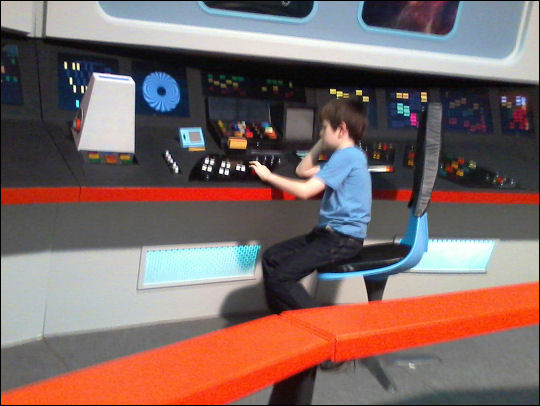 Since we took our sweet time getting going in the morning, we arrived near the end of the scheduled time for the Starbase Studios tour, so we had the bridge almost to ourselves.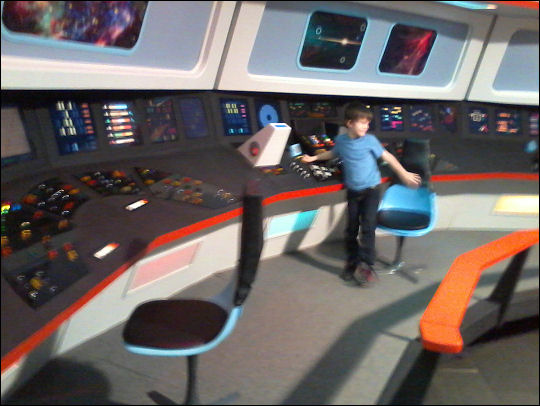 Of course, Little E didn't have friends his age to play with this time. He loved being there, but you know, you're a kid, on the bridge of the Enterprise, you gotta have a crew to play Star Trek with.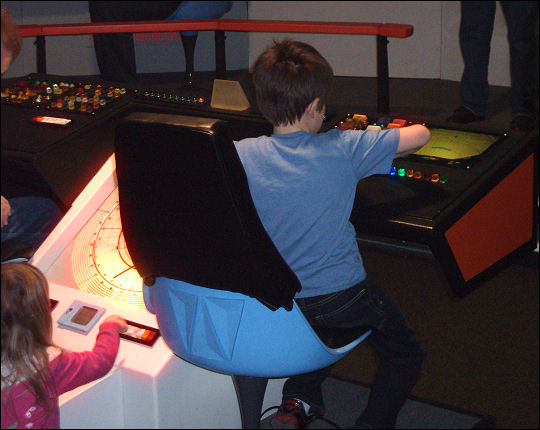 Otherwise it's like that time everyone was taken over by happy spores and abandoned ship, and it's no fun running the whole ship by yourself.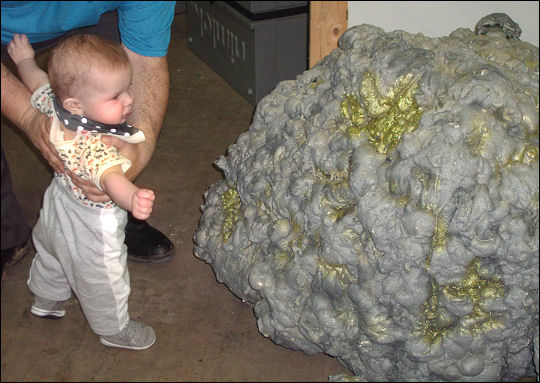 NO DROOL I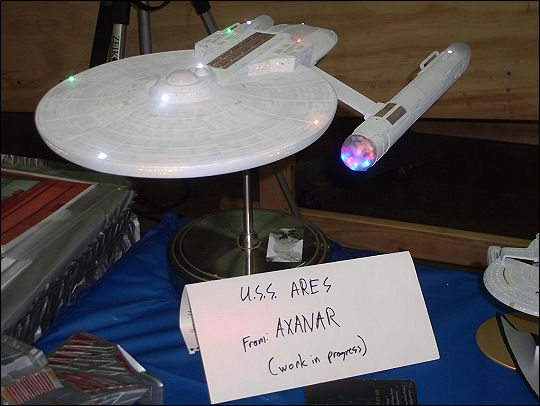 Other items, props and models were on display, including this great hand-crafted model of the U.S.S. Ares from Star Trek: Axanar.
An Interlude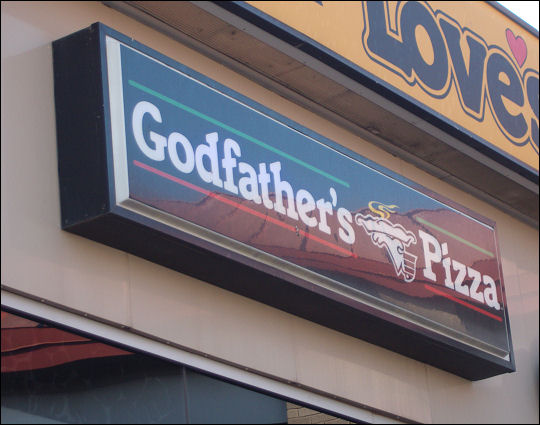 One thing central Oklahoma has that Arkansas doesn't have – you know, aside from a full working Star Trek film set and a space museum and whatnot – is Godfather's Pizza, a restaurant chain that vanished from Arkansas long, long ago. This Godfather's was located at roughly the halfway point between OKC and Weatherford. Yeah, we stopped. Going both ways. It was glorious.
Another Interlude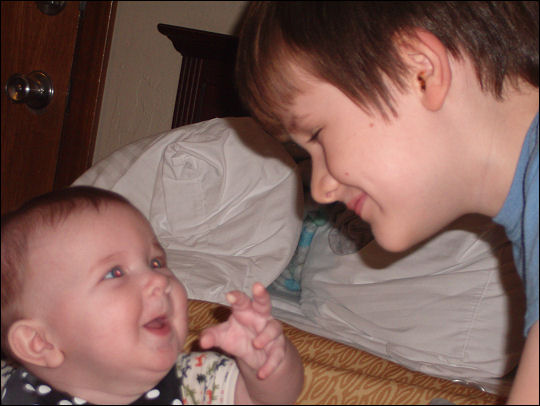 "I love you, big brother! And I made something in my diaper that's as big as this hand! Just for you!"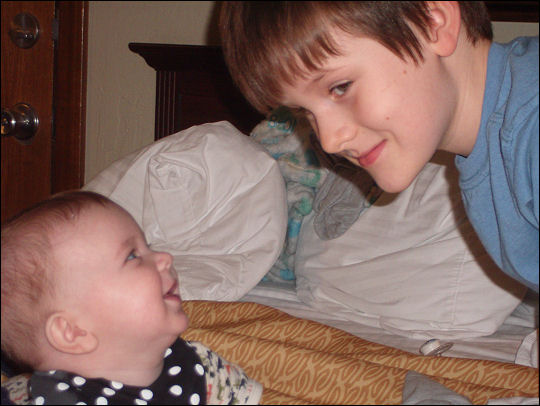 "Well, ain't he just a stinker?"
Stafford Air & Space Museum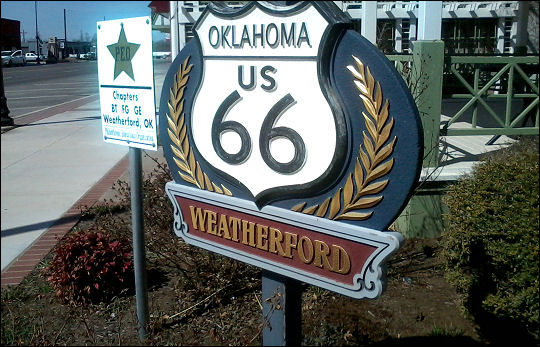 I've now been to Stafford three times – once in 2005 for the Apollo-Soyuz Test Project crew reunion (an inspiring event chronicled here), and once last year with Little E. This means there was a little bit of a "been there, done that" effect for him, which I partially chalk up to the stress, strain and fatigue of a long trip. This is why we stayed in Weatherford on Saturday night, with no particular agenda other than the consumption of copious amounts of pizza (and Starbase Studios fundraiser cookies).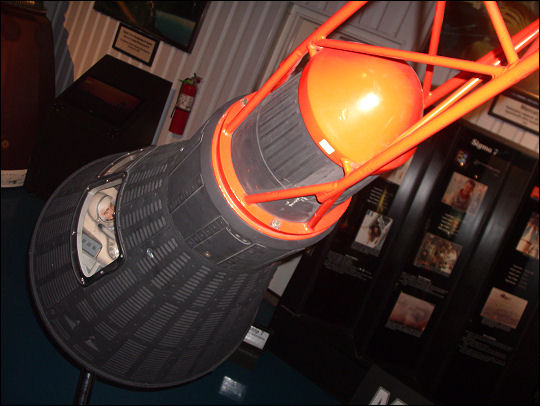 Sunday's schedule was simple: wake up, wash up, vacate the hotel room, and be at the Stafford Museum across town when it opens at one in the afternoon. Somewhere between it being a sleepy Sunday and showing up when they unlocked the doors, we once again had the place nearly to ourselves.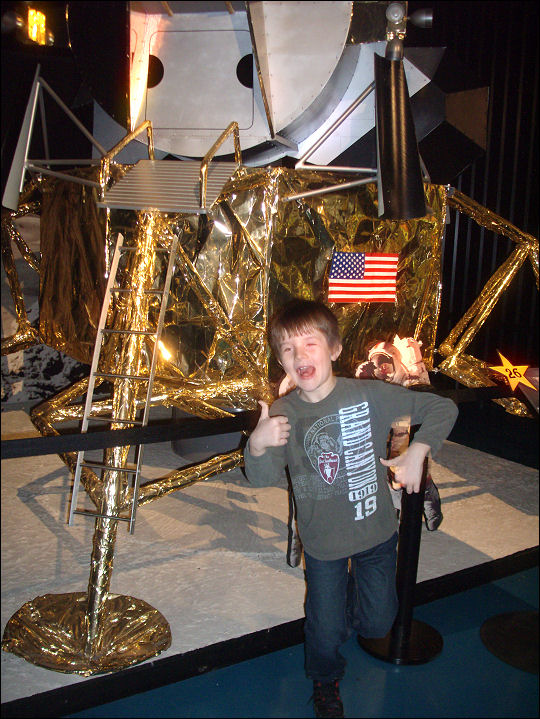 This gave Little E a chance to work on his moonwalking technique. (The lunar lander replica is 1/2 scale, so it's pretty much Little-E-sized.)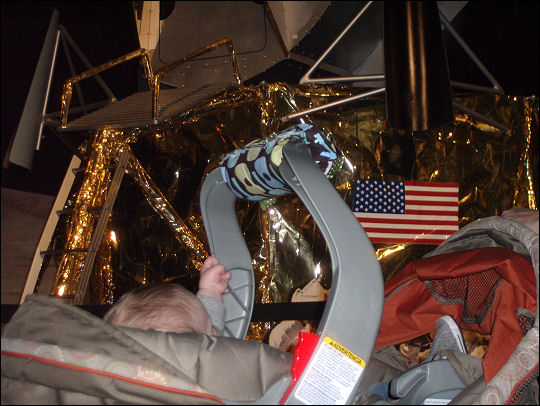 Little C, from the vantage point of his own little moon buggy, considers tagging along with his big brother.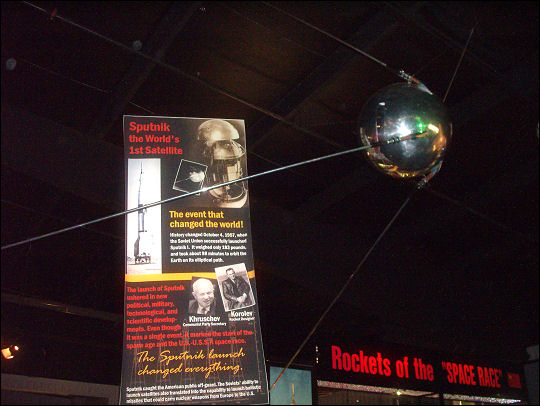 It may or may not have escaped your attention that I'm a huge space nut. I'm a fan of both the American and Soviet/Russian space programs – each has accomplished amazing things the other has not, and each is chock full of epic stories of both rocket-jokcey heroism and scientific and engineering resourcefulness: basically, some of the best stuff that American tax dollars have ever gone toward.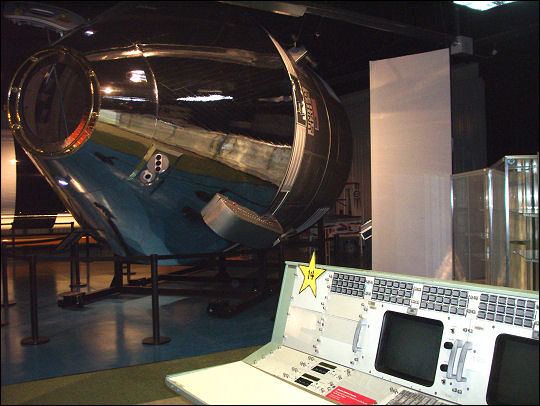 Still, there's a danger in haunting a place like this year after year, the possibility that you're going to lure yourself into thinking "I've seen it all." Which is a really bold thing to say when you're standing in possibly the only place in the country where you can simultaneously photograph a complete (replica) life-size Apollo command/service module with an actual retired console from Johnson Space Center's legendary Mission Control room. How can you possibly get jaded by the amazing? And yet we do – and arguably, that's what happened to public support for the moon landings. We got so good at it, so fast, it wasn't worth a news cut-in. I refused to be jaded. I was in a building surrounded by amazing things. My mission: to find and document the stuff that I had missed on previous visits, or to document them better this time.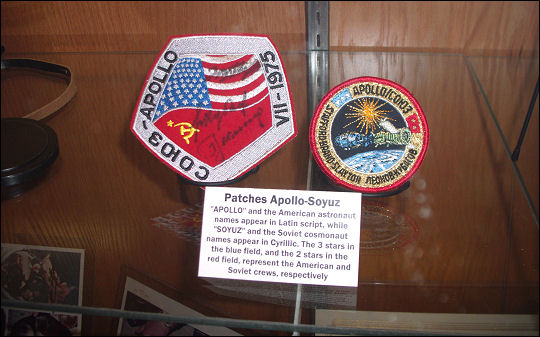 Since General stafford commanded the Apollo-Soyuz Test Project, the first-ever international docking mission from which much of the current shape of manner space exploration springs (we now cohabit on the International Space Station with the Russians, whose expertise helped build the station), there are abundant souvenirs of that oft-overlooked final Apollo flight.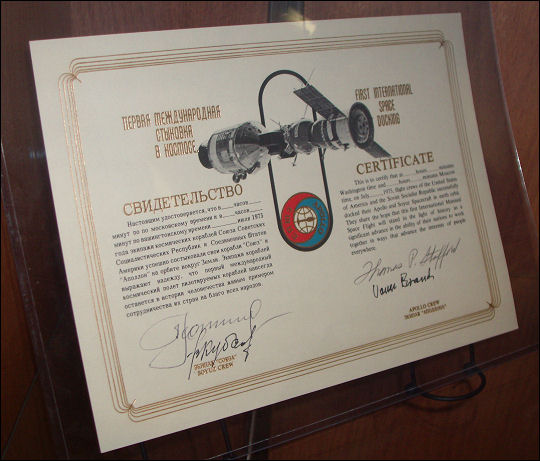 A copy of the certificate that was signed in orbit upon docking.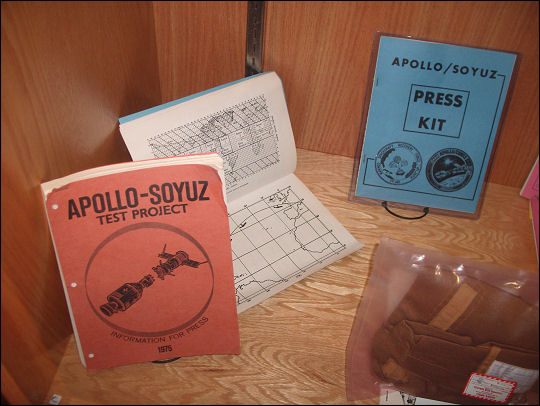 Press info for the Apollo-Soyuz launch. If you want to read the entire 200+ document online, you can do so here.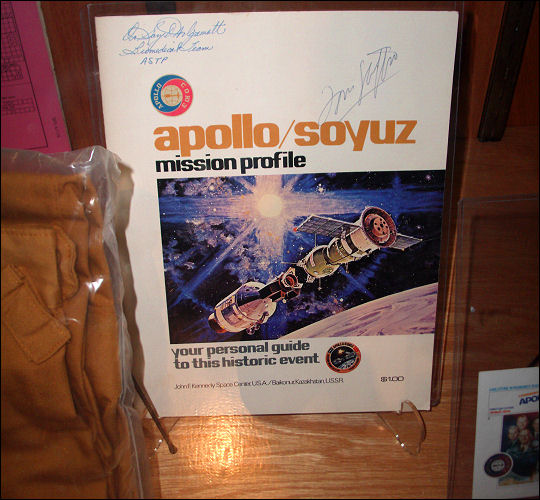 Bet I couldn't land this for a buck now.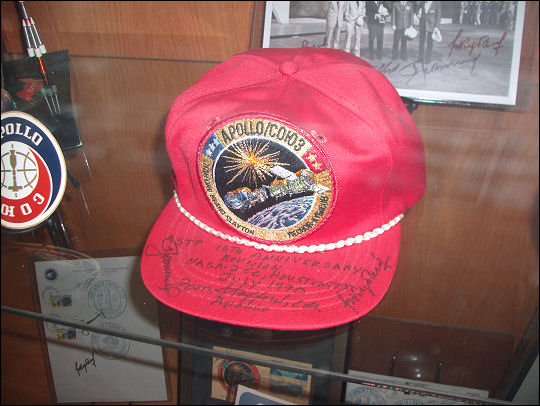 This mission is never old hat.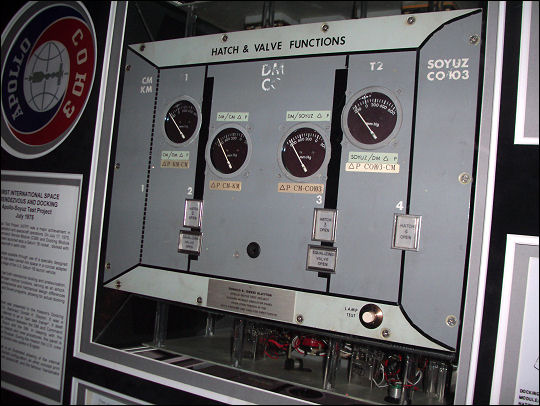 The training version of the controls for the gas exchange and pressure controls in the ASTP docking module, probably used in sims. It was really important to get this right: doing it wrong could've given those in the docking module the bends.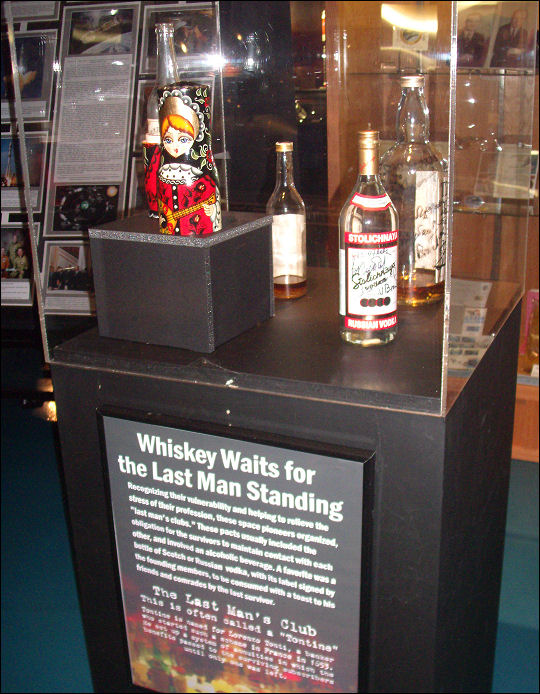 A sobering (well…maybe) reminder of fallen comrades. This is worth clicking for the full-size version that you can read. Each member of the ASTP crew contributed a bottle of whisky from his home turf, not to be consumed until only one of them is left. A bittersweet reminder that, since the 2005 reunion, Soyuz co-pilot Valery Kubasov has passed on. There's no hurry for that last drink, gentlemen.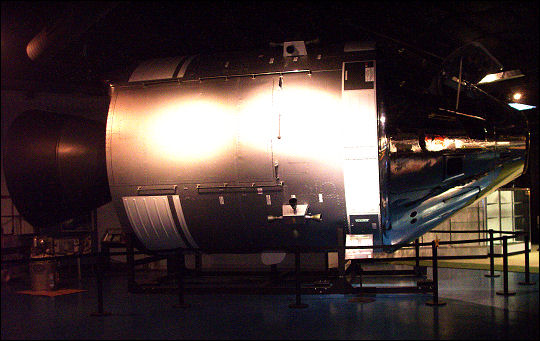 Returning to the days of going to the moon: spending a week and change in this vehicle to get to the moon in back doesn't sound so bad, right? It looks plenty roomy.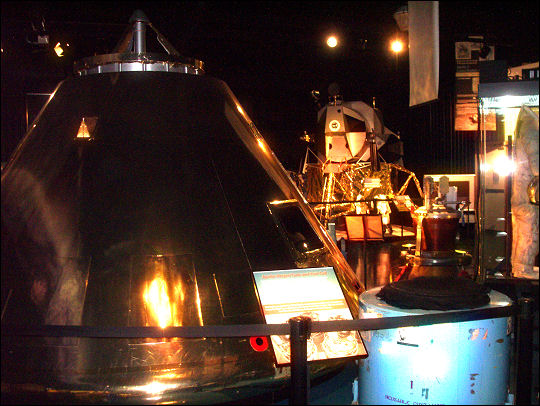 Until you realize that only the conical section – the command module – has habitable space. Bring deodorant.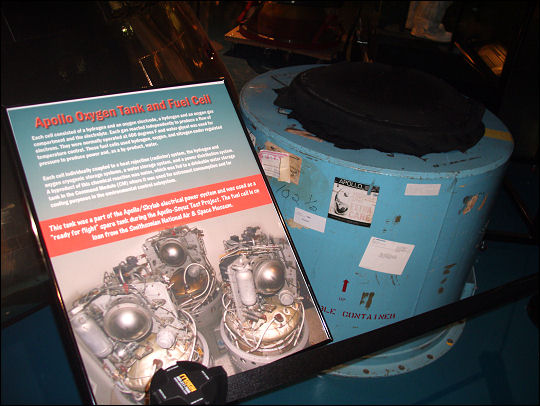 The lower half of an actual Apollo fuel cell from the Skylab/ASTP years. An electrical short in exposed wiring in one of these cells was the cause of the Apollo 13 accident in 1970.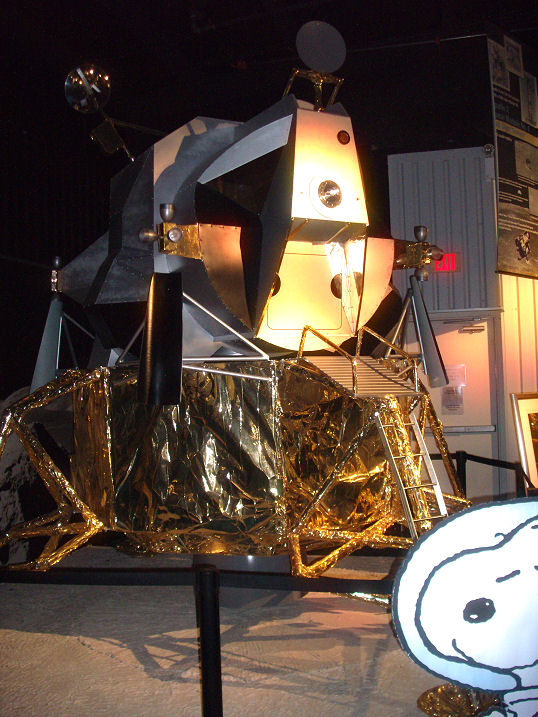 I just want to climb in and take it for a spin, until I realize that it's just big enough for my oldest kid to climb into.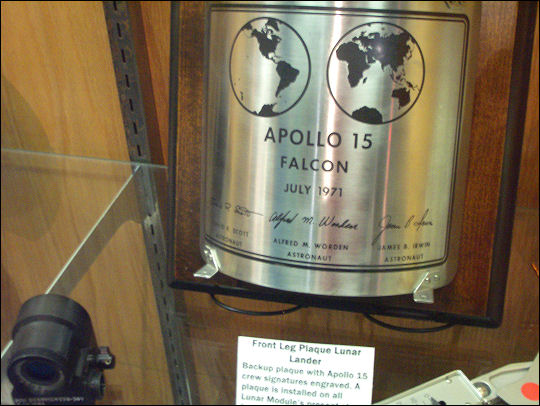 A replica of the plaque left on the moon, attached to the ladder of the Apollo 15 descent module, in 1971.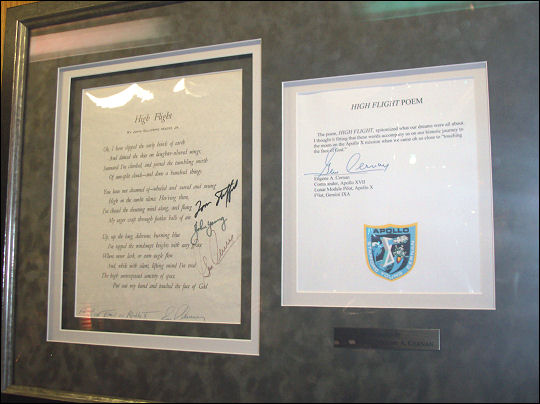 A signed copy of the poem "High Flight", donated to the Stafford Museum by Stafford's Apollo 10 crewmate (and the last human to set foot on the moon), Gene Cernan.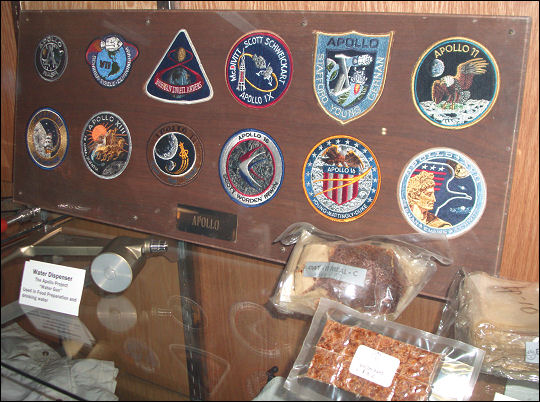 Yes, please. One of each.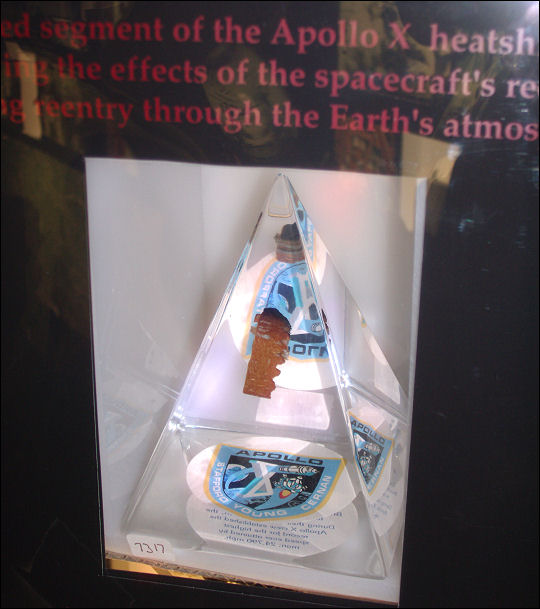 A piece of Apollo 10's heat shield, charred by the nearly 25,000mph re-entry it endured. I think this looks lonely without a similar chunk of the heat shield from last year's Orion EFT-1 test flight.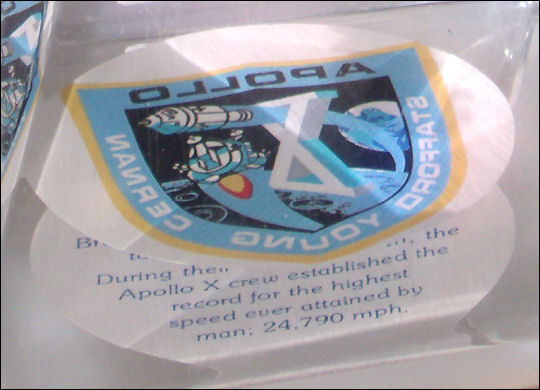 It drove me crazy that I couldn't read what was on the bottom of the emblem, reflected in the bottom of the glass pyramid. So here you go.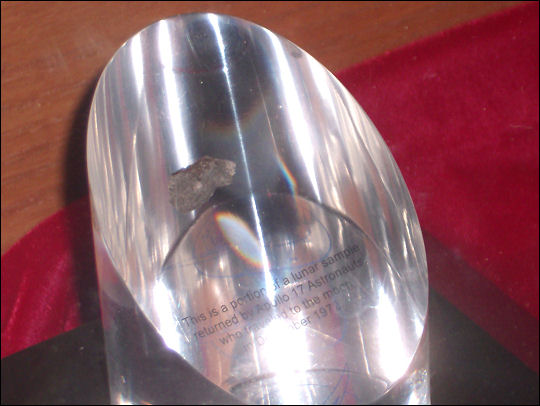 A little piece of the moon. (I remember when this was presented to the museum in 2005.)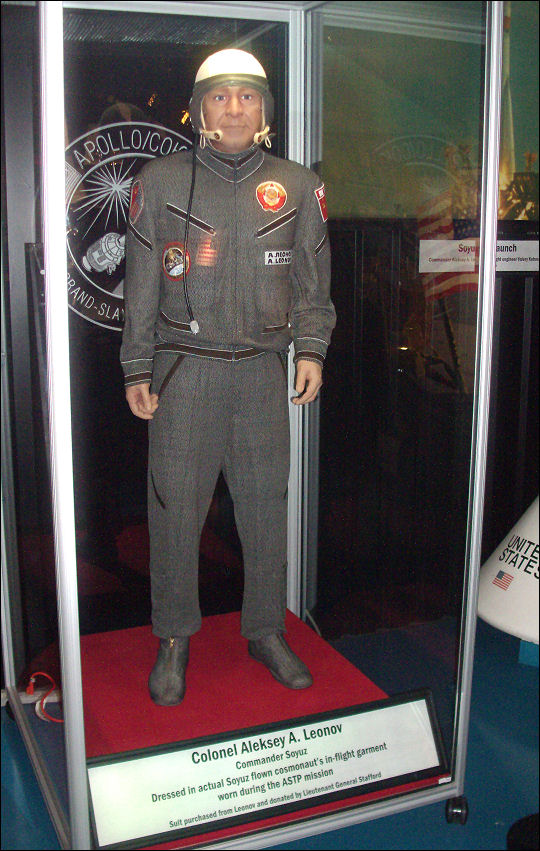 Cosmonaut Alexei Leonov's spacesuit from ASTP.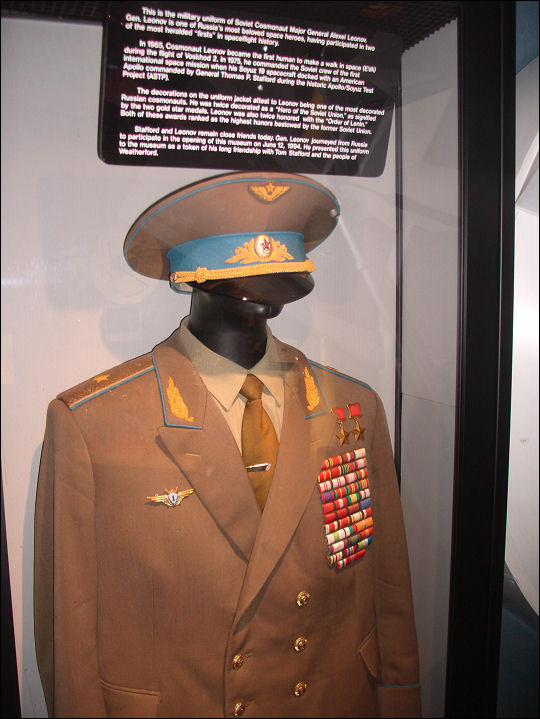 Leonov's Soviet-era military dress uniform. I'm not sure the word "decorated" does that justice.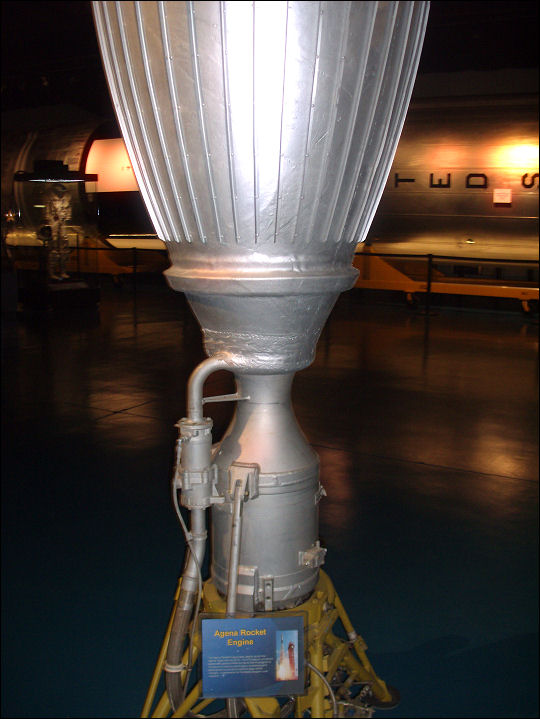 This was a completely new item I don't recall seeing on my last visit: the engine nozzle from an Agena rocket, as used in the Gemini program to boost astronauts to record-setting high orbits.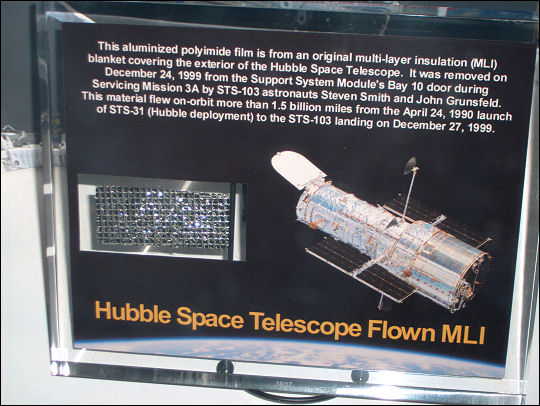 Shuttle-era artifacts: how about a piece of Hubble? It's sobering to realize that the shuttle program is to my oldest son what Apollo was to me: it was still flying when I was a baby. And then it stopped.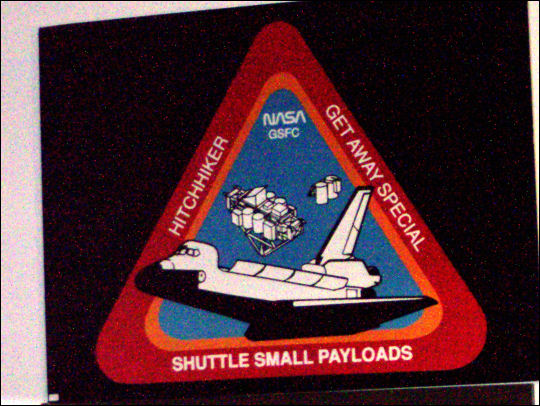 If there can be a patch/emblem for the shuttle's getaway special packages, there probably ought to be one for our family getaway too.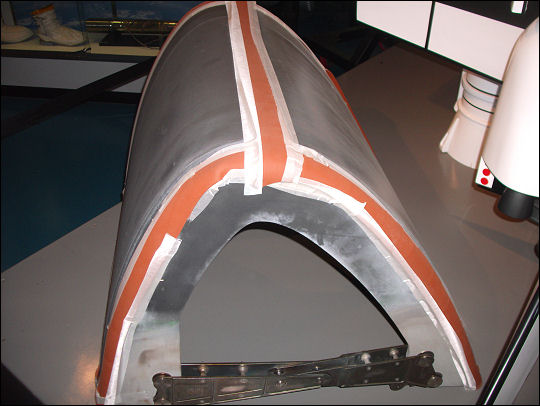 A section of a shuttle leading-edge wing panel. A breach in a section like this caused the destruction of Columbia and her crew in 2003.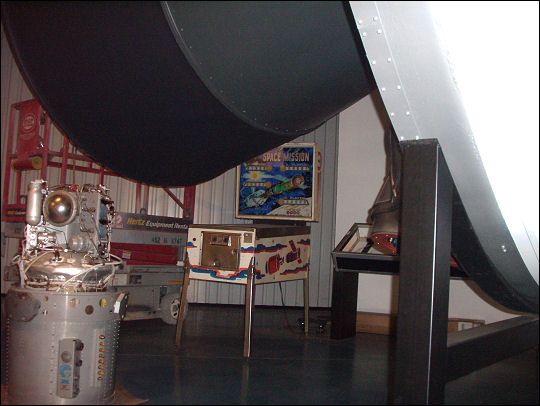 Now wait a minute. What's this tucked in behind the Apollo CSM? I thought we'd left the arcade on Friday. I had to duck down, zoom in, and try to see what this was.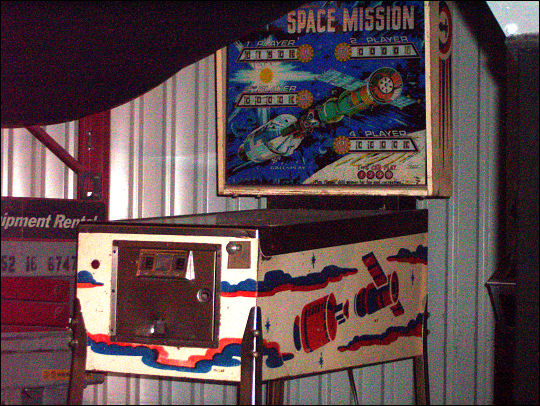 It's an Apollo-Soyuz inspired pinball table! Williams' Space Mission, made in 1976, to be precise. There are much better pictures here. I'm not as much of a pinball fan as I am a video game fan, but I was totally jazzed to discover this.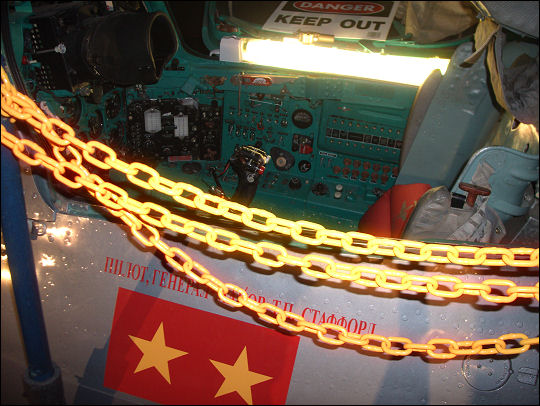 A Soviet-era MiG-20 jet fighter was present the last time I visited, but I don't remember the pilot ingress staircase being left in place so one could look at the cockpit.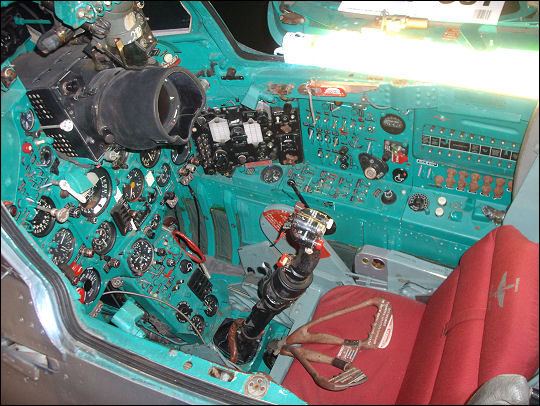 And here it is. Not too many fat kids from Arkansas get to look into the cockpit of a MiG, I wasn't going to miss my chance.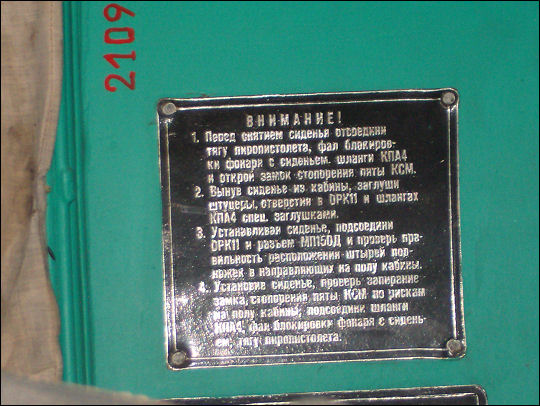 Do not take internally. No user serviceable parts inside. Always look for the union label. Burma Shave. Well, I think it says that, anyway. I'm a bit rusty on my Cyrillic.

For some reason I find it fascinating that the cockpit is institutional green.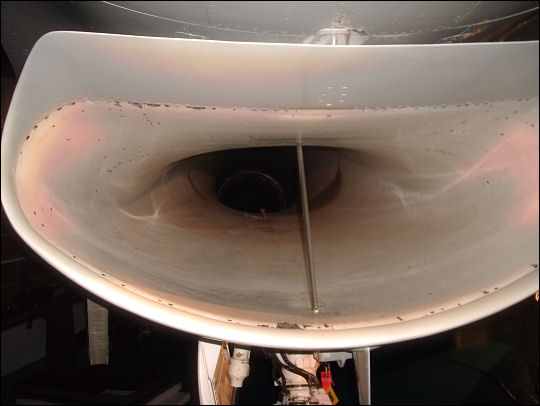 Staring down the maw into the belly of the beast…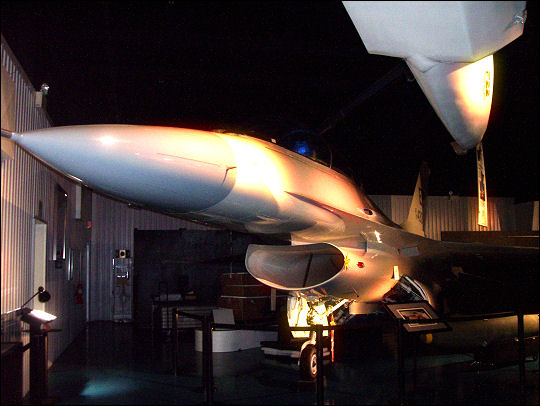 …also known as the airscoop of an F-16. It's a friendly, but I'm not sure I'd want to see this coming at me. The cockpit glass on this plane had just been replaced, but sadly, no stairs to look inside. (Probably still classified!)
Here Beginneth The Lesson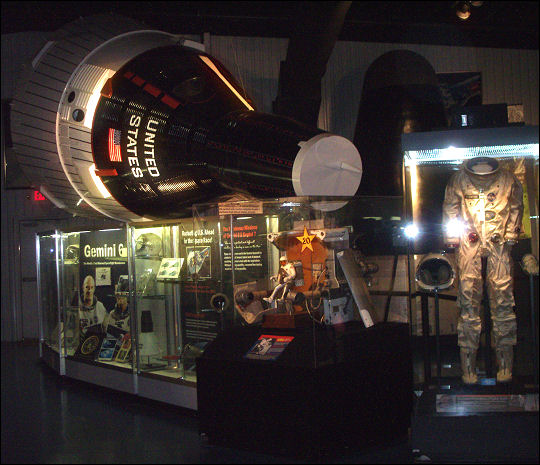 So is it the least bit confusing to mix-and-match science and science fiction with my kids? No. I don't think so.
There was a time, not too long ago in the grand scheme of things, when all of this stuff shared the same space in our hearts at the same time. They didn't compete with one another. They fed off of one another. Science and engineering and math could tell the story, in broad strokes, of how we got here and what we could do. Science fiction would take those stories and run with them, and maybe show us a little bit about ourselves in the process.
What I love about the Stafford Museum is that such a large part of it is devoted to Apollo-Soyuz, which to me is – even more than the moon shots – the spaceflight which actually began to deliver on the multi-national, multi-cultural, non-discriminatory future that Star Trek had been portraying as fiction. If you weren't around during the Cold War, it's hard to really explain how big a deal that flight was.
It's not hard, however, to explain how disappointing it is that decades of joint spaceflight building on that mission might come crashing down because one egotistical maniac wants to take his country's ball and go home.
The reason I expose my oldest son to the stuff I have is because of the message: peace is preferable to war. Fighting is a failure to communicate, writ large. And the world might be a better place if we let science lead. This doesn't mean to rob everyone of whatever belief systems they may hold, but we acknowledge that the numbers – double checked, experimentally reproduced, and peer reviewed – don't lie.
We're at a very dangerous juncture in the history of our culture. Compassion and scientific literacy seem to be in short supply simultaneously. This, to me, is a disaster starting a slow boil.
Exposing my kids to real science and engineering, as well as fanciful looks forward at what science + engineering + compassion might get us, is the contribution I'm able to make toward fighting that alarming trend. Even the arcade is an educational experience – it gets me and E talking about algorithms and programming and math.
Little E and I geek out over the latest pictures of Saturn and its moons, and Ceres, and we're waiting with bated breath for New Horizons to show us Pluto. He's hooked. He's got the science bug. Permit me a moment to rub my hands together like Emperor Palpatine and say "Good! Good!!"
The fact that they get to have fun at the same time? Any good teacher will tell you: that's what makes the lesson stick.
Links: