Ever since I moved into this house – heck, the very day that I started moving stuff into this house – my game room has been, for better or worse, probably the most thought-out-in-advance part of the place. Building on the game room I'd put together in our previous rental house, I wanted the game room to instantly say to anyone who walked in, "This is a place where classic video games are played." But it's time for a rather major rethink: now this is a place where classic video games are played, and where my little boy lives and plays.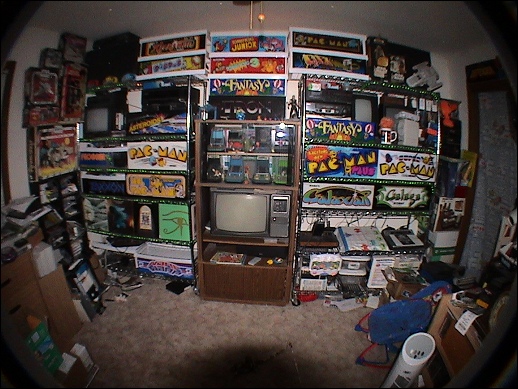 At first glance, it may not seem that much has changed. And it's worth pointing out that all of the pictures here are of a work-in-progress that may yet change. But one major difference here is that a lot of arcade marquees that had either been elsewhere in the room or in the back of the shelves to hide wiring are now at the front of the shelves.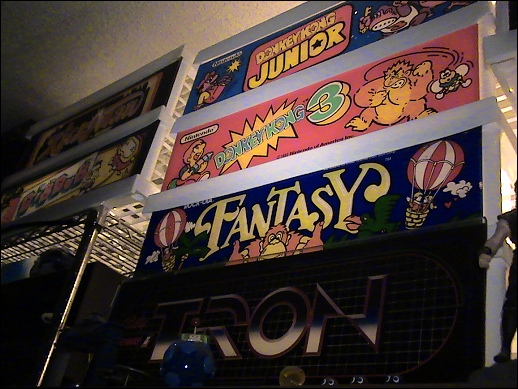 In some ways, the backlit arcade marquee display that I built in late 2003/early 2004 provided some handy inspiration for how to child-proof all these shelves full of old game systems.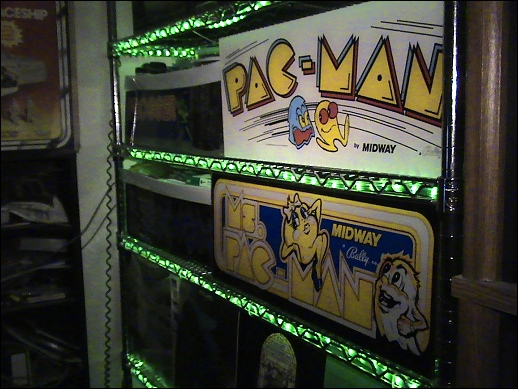 The marquees seen here cover things that I'd rather Evan didn't get his little fingers into – the Pac-Man marquee covers the DVD player and recorder and some of their associated A/V gear, while the Ms. Pac-Man marquee hides a sound mixer.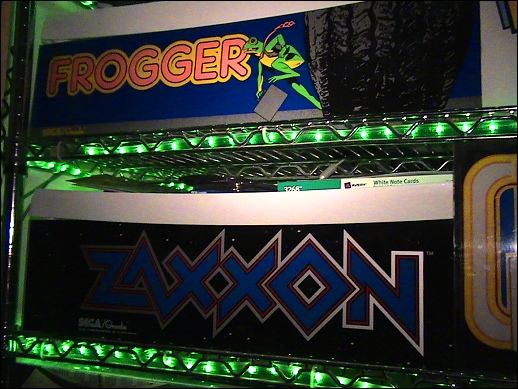 To the left of those, the plastic shelves are back, providing not only handy storage space for stuff like mailing supplies for PDF DVDs, but protecting equipment that's still in the shelves: the Atari Video Music hides behind the Frogger marquee, and the Colecovision is still hooked up behind the Zaxxon marquee.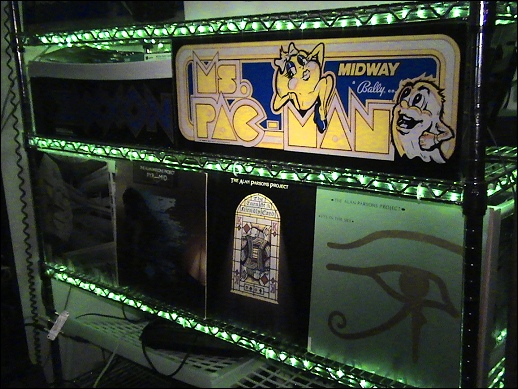 The weakest link in this whole rethink is the shelf below, which basically contains boxes: several systems have been put away completely, boxed up with their AC adapters and controllers and any other special gear. Most of the vintage computers are boxed up (the Atari 400, TI 99/4a, C64 and VIC-20 all live in boxes now), along with the Intellivision, Atari 7800 and NES. The Channel F and Atari 5200 will be going into boxes soon as well. Covering the boxes are some album covers – not really a perfect solution, but the best I had at the moment. Obviously a rethink is still in order here.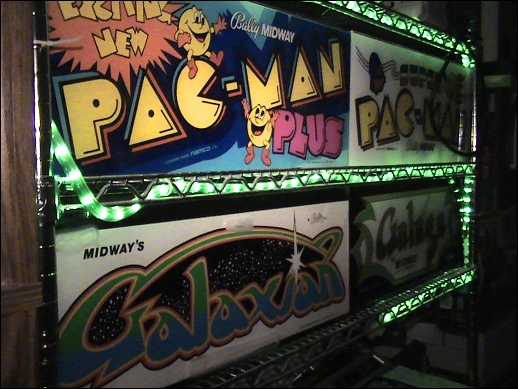 On the opposite shelf, the Galaxian and Galaga marquees cover the shelf containing my more recent systems (Gamecube, PS2, JP PS1, the humongous PS1 arcade joystick), while the Atari 2600 and Odyssey2 will be migrating to the shelf above, which is covered with the Pac-Man Plus and Super Pac marquees. These marquees aren't backlit, but with the rope lights on, they catch the surrounding light nicely. It's easy enough to remove a marquee and set it aside to play some games, and put it back later, and they're wide enough that they're not going to fall out at the slightest touch.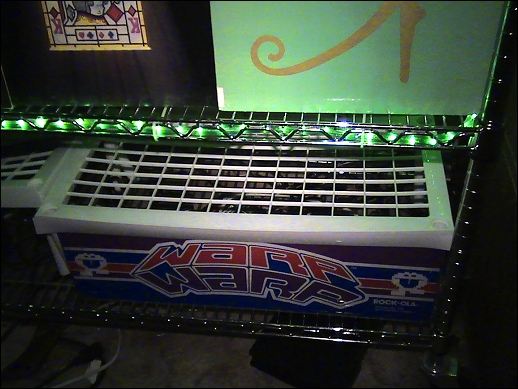 This Warp Warp marquee and its little shelf are practically at ground level; behind/underneath is a power strip and virtually all of the game systems' AC adapters, out of sight and out of mind.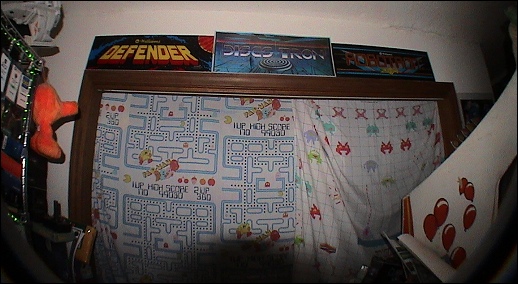 The oddballs that wouldn't fit anywhere else: Defender, Discs Of Tron and Robotron. Not quite as "useful" as the rest of the marquees have suddenly become, but they're nice enough to look at.
Overall, the room still says that this is where classic games are played – if anything, bringing the marquees front and center as protective covers may help it deliver that message louder than before. The real point in doing this, though, is all about protecting some older machines from little hands, and vice versa. My main criteria for which systems to dismantle and which ones to leave basically boiled down to whether I spent time playing the machines themselves, or emulating them instead. The thick layers of dust covering my Atari 400, 5200 and 7800, Commodore computers and NES made that decision easy. I'd recently played quite a bit of Intellivision, so that was a slightly more painful one. In the end, there are 3 classic systems still hooked up (4 if you count Atari Video Music), a single vintage computer (Apple IIc), and the three more recent machines. The Vectrex, which is already on an upper shelf, is staying put. I didn't want to break down the entire game room – it's hard to justify calling it a game room if there's a conspicuous lack of actual games – but the days of "leave everything hooked up and on the shelves" are over for now. Evan spends a lot of time in here with me – it's his favorite place in the world to watch Curious George and eat bananas – and it needs to be as much his room as mine. Over the years, I've resisted numerous "suggestions" that I might tone down the game room a bit, but for him, I'll do it – he's good company. I'd rather have him in here with me than rope the whole room off like a museum display.
So this is still a room where classic video games are played. Maybe not as often as they used to be, sure, but someday, if Evan shows any interest in his dad's old game collection (which wouldn't hurt my feelings a bit), this will be that room again. And in the meantime, I certainly wouldn't mind adding a Wii to this whole setup and making it a room where modern games are played too – there's certainly the floor space for it now.