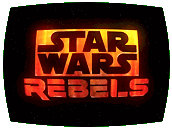 As Hera is questioned and tortured in Lothal's capitol, Kanan confesses to Ezra that his feelings for Hera may be clouding his judgement, and he asks Ezra to take the lead on Hera's rescue. Just as Ezra and Sabine prepare to leave on undetectable gliders disguised as Loth-bats, Kanan has a change of heart and joins the rescue mission. As Sabine and Ezra, disguised as Imperial pilots, work to hijack an escape vehicle, Kanan rescues Hera, who is moved to admit her feelings for him are mutual. The reunion is brief: Kanan wants to target the Imperial fuel depot on their way back to base, and Governor McGlynn wants to be rid of the Rebels on Lothal once and for all.
written by Dave Filoni & Henry Gilroy
directed by Saul Ruiz
music by Kevin Kiner
additional music by David Russell, Sean Kiner, and Dean Kiner
based on original themes and music by John Williams

Cast: Taylor Gray (Ezra Bridger), Vanessa Marshall (Hera Syndulla), Freddie Prinze Jr. (Kanan Jarrus), Tiya Sircar (Sabine Wren), Steve Blum (Zeb Orrelios / Stormtrooper #1 / Stormtrooper Commander), Dave Filoni (AT-AT Driver / Stormtrooper #2), Mary Elizabeth McGlynn (Governor Pryce), Stephen Stanton (Grand Moff Tarkin / TIE Pilot / Stormtrooper #3), Lars Mikkelsen (Grand Admiral Thrawn), Warwick Davis (Rukh)

Notes: Tarkin informs Thrawn that the TIE Defender program is now competing for Imperial funding with Director Krennic's "Stardust" project (the code name given to the Death Star in Rogue One). The end credits play over silence rather than the customary theme music.
LogBook entry by Earl Green