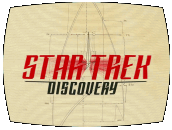 Stardate not given: The coordinates chanted in reverse by Spock bring Burnham to the forbidden planet Talos IV, visited just a few years earlier by Spock and Captain Pike aboard the Enterprise. Spock has to help Burnham overcome the illusion of a black hole in the planet's place, a barrier erected by the Talosians to keep outsiders away. After landing the shuttle, Burnham is greeted by a young woman named Vina, who says she has been in the company of the Talosians for some time since a ship she traveled on as a child crash-landed on Talos IV. She recognizes Spock and extends an offer of help from the Talosians, who not only help Spock recover from his mental collapse, but share with Burnham what triggered it: an encounter – and a mind-meld – with the Red Angel. That mind-meld gave Spock a glimpse of a future in which some unknown enemy destroys the major worlds of the Federation. Spock believes that the Red Angel is trying to change the timeline so these events do not happen. Aboard Discovery, the miraculously revived Dr. Culber finds himself unable to return seamlessly to his life with Stamets…and, worse yet, sees Ash Tyler, his killer, and feels compelled to confront Tyler violently. Tyler grows suspicious of Pike's focus on finding Burnham and Spock, despite direct orders not to do so. When evidence of sabotage from within the Discovery appears, Pike immediately has Tyler confined to his quarters. If he uses Discovery to return to Talos IV to help his crewmates, Pike will only be tipping his hand to Section 31.
written by Dan Dworkin & Jay Beattie
directed by T.J. Scott
music by Jeff Russo

Cast: Sonequa Martin-Green (Commander Michael Burnham), Doug Jones (Lt. Commander Saru), Anthony Rapp (Lt. Paul Stamets), Mary Wiseman (Cadet Sylvia Tilly), Wilson Cruz (Dr. Hugh Culber), Anson Mount (Captain Christopher Pike), Michelle Yeoh (Philippa Georgiou), Melissa George (Vina), Ethan Peck (Spock), Alan Van Sprang (Leland), Rachael Ancheril (Lt. Commander Nhan), Dee Pelletier (Talosian #2), Rob Brownstein (The Keeper), Alisen Down (Starfleet Psychiatrist), Hannah Chessman (Lt. Commander Airiam), Emily Coutts (Lt. Keyla Detmer), Patrick Kwok-Choon (Lt. Gen Rhys), Oyin Oladejo (Lt. Joann Owosekun), Ronnie Rowe Jr. (Lt. R.A. Bryce), Julianne Grossman (Discovery Computer), Arista Arhin (young Burnham), Riley Gilchrist (Andorian Admiral), Liam Hughes (young Spock), Harry Judge (Tellarite Admiral), Jon de Leon (Section 31 Engineer), Sara Mitich (Lt. Nilsson), Tara Nicodemo (Admiral Patar)

Notes: For the first time in the franchise's 53-year history, an episode of a Star Trek spinoff revisits the events of The Cage (1964), the original Star Trek pilot, making "official" the originally filmed ending of an illusory Captain Pike remaining on Talos IV with Vina. (This had previously been subject to some interpretation, since The Cage footage was incorporated into the classic series two-parter The Menagerie, which reinterpreted that ending as the real Pike, in an illusory healthy body, rejoining the similarly afflicted Vina, as seen by Captain Kirk.) The opening teaser is a stylized montage of footage from The Cage, with an on-screen title simply reading "previously on Star Trek". The Talosians are extinct in the mirror universe, exterminated by Empress Georgiou. Guest star Alisen Down played Olivia in Syfy's 12 Monkeys series, and head guest starring roles in Stargate Universe, Supernatural, the re-imagined Battlestar Galactica, The Dead Zone, and Stargate SG-1.
LogBook entry by Earl Green