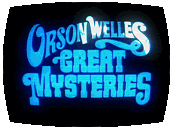 A man named John, looking for a room to rent in New York City, is also looking for a woman named Louise. He's sure that the lady from whom he's rented a room has seen her, though she denies it – New York is, after all, a big city. But everywhere he looks, John is sure he sees evidence of Louise. He's certain she was there. And not being able to find out what happened to her might be the death of him.
teleplay by David Amrbose
based on the short story by O. Henry
directed by Alan Gibson
theme music by John Barry

Cast: Clarence Williams III (John Cambridge), Irene Worth (Mrs. Purdy), Sally Travers (Mrs. McCool), Joan-Ann Maynard (Louise)

Notes: Clarence Williams III had just completed his run as Linc Hayes on the popular American series The Mod Squad when he starred in this episode. Among a great many other roles, he would later appear in an episode of Star Trek: Deep Space Nine (To The Death, 1996).
LogBook entry by Earl Green