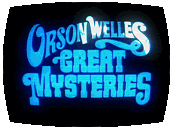 Harry Langley, an ambitious American reporter working in Paris, learns of an unsolved murder and hatches a scheme to pose as the murderer to get himself arrested, and to then send his employer "exclusive interviews" with the prime suspect in the case…at least until he is released for a lack of any actual evidence. By hanging out near the scene of the crime, making suspicious comments, Langley attracts police attention soon enough, especially when he throws a suitcase of "incriminating evidence" into the nearby river. His resolve to get the big story cracks when he is told that his Parisian girlfriend was the victim; suddenly, despite his innocence, Langley looks like the guiltiest man in the world.
teleplay by Carey Harrison
based on a story by Pontsevrez
directed by Peter Sasdy
theme music by John Barry

Cast: David Birney (Harry Langley), Geoffrey Bayldon (Magistrate), James Maxwell (Duperrey), Ronald Radd (Leduc), Anthony Ainley (Lafarge), John Cater (Martell), James Mellor (Bucheron), Neil Wilson (Concierge), Peter Madden (Judge), Pam St. Clement (First Woman), Eamonn Boyce (First Man), Mia Nardi (Henriette)

Notes: Fresh from a recent stint as the star of the spy series Spyder's Web, actor Anthony Ainley appears here in the courtroom scenes. Throughout the 1980s, Ainley would take on the role of the Master in Doctor Who.
LogBook entry by Earl Green