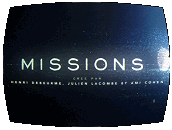 The Ulysse crewmembers, their trust in each other stretched thin, debates over whether or not the spacesuited Russian they have found on the Martian surface can actually be cosmonaut Vladimir Komarov, believed to have perished in the cataclysmic impact of Soyuz 1 in 1967. The numerous emergencies since landing on Mars have left them in need of sleep, but when they awaken, the man claiming to be Komarov and his spacesuit are gone. Gramat, Renoir, Meyer, and contentious astronaut Yann Bellocq venture out in Ulysse's rover to track Komarov down. As they close in on his position, they are contacted by Earth: a blood sample taken from Komarov after he was found on Mars reveals that his DNA has a triple helix…meaning he's either not human, or something more than human.
written by Julien Lacombe
directed by Julien Lacombe
music by Etienne Forget

Cast: Hélène Viviès (Jeanne Renoir), Clément Aubert (Simon Gramat), Mathias Mlekuz (William Meyer), Jean-Toussaint Bernard (Yann Bellocq), Giorgia Sinicorni (Alessandra Najac), Côme Levin (Basile), Adrianna Gradziel (Eva Müller), Arben Bajraktaraj (Vladimir Komarov), Tiphaine Daviot (voice of Irene), Avant Strangel (Scientist),
Ian McCamy (Adjunct Scientist), Manon Giraud-Balasuriya (young Jeanne)

Notes: The Amazon streaming link included above is for the English-subtitled edition of the series.
LogBook entry by Earl Green