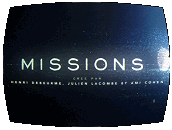 As Renoir hypnotizes Komarov, he returns the favor, regressing her to memories of her childhood home, and beginning to ask her questions about whether or not she believes humanity has a future at the rate it is consuming resources. As he continues questioning her, he reveals she has a destiny tied to both Earth and Mars. A visit from Meyer confirms this: Renoir's own face is embedded in the rocks and soil of Mars, something which led him to recruit her for the mission. Meyer's old nemesis (and Zillion founder Ivan Goldstein's right-hand woman) Gemma Williams visits Ulysse, with engineer Allan Brody in tow, and Meyer's crew debates over how much to tell her about what they've found on Mars. She quickly discovers that the DNA found in the stone altar is a storage medium. She also learns that the Ulysse crew is hiding something or someone who had previously been interrogated – violently – by the Z-1 crew…and she believes that Komarov killed them.
written by Ami Cohen
directed by Julien Lacombe
music by Etienne Forget

Cast: Hélène Viviès (Jeanne Renoir), Clément Aubert (Simon Gramat), Mathias Mlekuz (William Meyer), Jean-Toussaint Bernard (Yann Bellocq), Giorgia Sinicorni (Alessandra Najac), Côme Levin (Basile), Adrianna Gradziel (Eva Müller), Arben Bajraktaraj (Vladimir Komarov), Natasha Andrews (Gemma Williams), Ben Homewood (Allan Brody), Tiphaine Daviot (voice of Irene), David Clark (Astronaut 1), Etienne Guillou-Kervern (Astronaut 2)

Notes: The series creators tip their hand of their love for the American series Lost when Gemma Williams jokes that the data encoded in the stone altar's DNA is "the numbers from Lost" (presumably referring to Hurley's lottery numbers). The Amazon streaming link included above is for the English-subtitled edition of the series.
LogBook entry by Earl Green