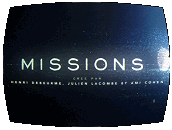 After leading the expedition from the Ulysse to a stone artifact obviously constructed by someone, Komarov returns with the crew to their ship, just in time for them to see another spacecraft arriving on Mars. Much like Z-1, the new arrivals were launched by the private aerospace corporation Zillion with NASA, but unlike Z-1, the Americans who have just landed on Mars are belligerent – and armed. The mission commander, Edward Doisneau, reveals that Z-1 had a black box recording device…and that its transponder has led them to Ulysse. Meyer hands over a box that was found alongside Komarov, which seems to placate the American expedition; though they do not offer any help to the Ulysse crew (still stranded on Mars unless they receive additional fuel), they promise to return. Renoir proposes hypnotizing Komarov to regress through his memory and find out what happened between Soyuz 1's fall to Earth and his discovery on Mars. Eva and Basile discover that the stone artifact contains design elements, heiroglyphics, and dimensions corresponding to Greek and Mayan architecture, and is composed mostly of a metal never before seen by humankind…as well as the same kind of DNA that makes up the third helix of Komarov's DNA.
written by Julien Lacombe
directed by Julien Lacombe
music by Etienne Forget

Cast: Hélène Viviès (Jeanne Renoir), Clément Aubert (Simon Gramat), Mathias Mlekuz (William Meyer), Jean-Toussaint Bernard (Yann Bellocq), Giorgia Sinicorni (Alessandra Najac), Côme Levin (Basile), Adrianna Gradziel (Eva Müller), Arben Bajraktaraj (Vladimir Komarov), Natasha Andrews (Gemma Williams), Nathan Willcocks (Edward Doisneau), Shane Woodward (Adam Wayne), Vincent Londez (Ivan Goldstein), Tiphaine Daviot (voice of Irene), Avant Strangel (Scientist), Ian McCamy (Adjunct Scientist)

Notes: The Amazon streaming link included above is for the English-subtitled edition of the series.
LogBook entry by Earl Green