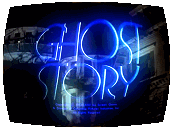 On their tenth anniversary, Ed & Kate Lucas enjoy a vacation drive, but a wrong turn leads them to a house near the sea, where Kate has the unsettling feeling that someone is calling to her. The old man who lives there, Daniel, tells the Lucases the story of the concrete captain, who was harpooned to death and encased in concrete to end his suffering after a horrific accident involving the rocks just off the coast. Their stop goes from romantic to disturbing as Kate wanders to the edge of the sea one night, again drawn by a distant voice, but she remembers none of this the next day. Ed is growing anxious to leave before anything worse happens. Are he and Kate somehow re-enacting a tragedy that took place a century ago?
teleplay by Jimmy Sangster
based upon the story by Elizabeth Walter
directed by Richard Donner
music by Robert Prince

Cast: Sebastian Cabot (Winston Essex), Stuart Whitman (Ed Lucas), Gena Rowlands (Kate Lucas), Walter Burke (Daniel), Eugenia Stewart (Katherine), Glenn Wilder (The Captain), Lloyd Gough (The Doctor)

Notes: This episode is adapted from the short story of the same name by Elizabeth Walter (1927-2006), a British short story writer; another of her stories, "The Spider", had been adapted a year before for Rod Serling's Night Gallery.
LogBook entry by Earl Green