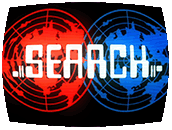 When a PROBE agent is abducted while trying to crack a counterfeiting ring in the UK, Cameron calls in Nick Bianco, an "Omega Probe" who handles especially hazardous cases. Bianco is brought up to speed on the counterfeiting operation, which has been pumping thousands of $100 bills almost indistinguishable from the real things into world markets, before jetting to London to join forces with an undercover IRS agent. Bianco can barely hide the fact that he'd like to be under her covers, but pleasantries have to wait as a series of escalating encounters with seemingly disconnected people across London make it clear that Bianco is closing in on an operation that threatens to undermine American currency around the globe.
written by Leslie Stevens
directed by Phillip Leacock
music by Dominic Frontiere

Cast: Tony Franciosa (Nick Bianco), Burgess Meredith (Cameron), Angel Tompkins (Gloria), Stefanie Powers (Jill Davenport), Allen Garfield (Marty Zakarian), Milton Selzer (Lucas Kaplos), Jacquelyn Hyde (Lena Kaplos), Ford Rainey (Dr. Barnett), Larry Linville (Emery), Henry Capps (Bartender), Lou Peralta (Voit), Harold Oblong (Aaron Kaplos), Ian Abercrombie (Florist), Tony de Costa (Ramos), Byron Chung (Kuroda), Ginny Golden (Keach), Albert Popwell (Griffin), Amy Farrell (Murdock), David Gilliam (Arthur Burrell)

Notes: Another one of the major changes that Search underwent in the transition from TV movie to weekly series was a rare "rotating leading man" arrangement. This not only afforded the series a little bit of flexibility with a complex location shooting schedule, but in more practical show business terms, it meant that the show's entire future couldn't be held hostage to the salary demands of a single star. In story terms, it lent some realism to the PROBE operation: a security operation with global reach couldn't plausibly depend on the services of just one agent. While future Hart To Hart star Stefanie Powers steals the show, Larry Linville can be seen in a bit part; this episode of Search aired just three nights after he made his debut as Major Frank Burns in the first episode of M*A*S*H on rival network CBS.
LogBook entry by Earl Green