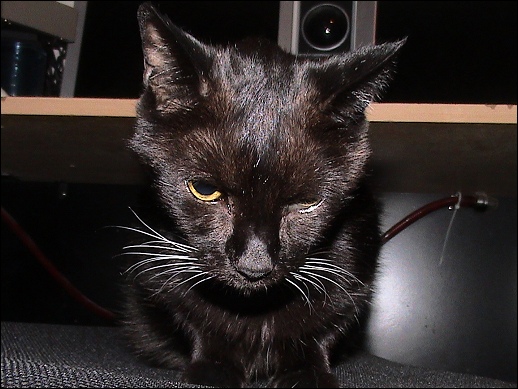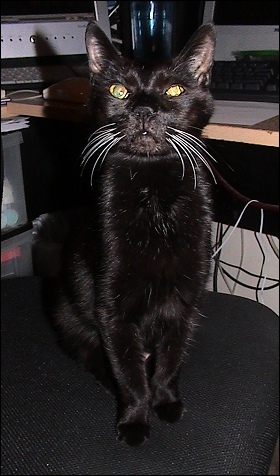 We lost Othello today to a tumor that was crunching up against his intestines, preventing him from eating much of anything. This is why he lost so much weight so fast. How we missed this for so long, given that the tumor was bigger than some of his organs right at the end, I don't know. He snuggled up to me more than anyone else (other than Olivia and occasionally Obi), so not finding this early is on me.
Othello was a few weeks away from being 14 years old – not long after I adopted him and Iago, I "gave" my birthday to my kitties, because it was actually pretty close to the right date, and because it was more fun to bestow kitty treats upon the masses than to celebrate my own birthday by myself. So on my birthday this year, Othello would have been 14.
The vets did all they could for him, but we didn't figure out what was really going on until it was too late.
Othello was my most faithful companion, and most days I'd wake up with him next to me. Whatever it might say about the family dynamic around here, I can honestly say I've woken up next to the big black cat more times than I've woken up with my spouse or my child next to me. He went through the 1996 tornado (and the explosion a few days later) with me, and moved cross-country with me several times over the last 11 years or so. Othello went through a lot and put up with a lot – he apparently seemed to think that being my cat was worth all that.
I can certainly say that being his person was worth everything. I would – and will – do it all over again.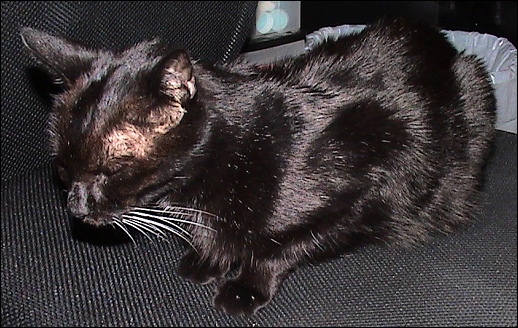 Bye bye, buddy. I love you and I'll miss you. Until we meet again.