And so it begins.

Okay, rewind a bit. In the course of going through some folders and boxes I have been carrying around with me for decades, but haven't gone through, I found treasure – namely, the entire two-year run of my junior high school newspaper during my tenure in eighth and ninth grade journalism class. All seriously yellowed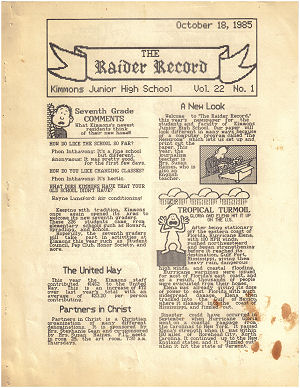 and fragile, but all complete. The good and the bad, the inadequacies and the excesses of youth, are all really, really on display here. And unless I somehow turn up an old folder with hand-written missives and stories from grade school, this is the earliest record of me, or my lifelong friend and partner-in-crime Rob Heyman, as a writer.
To tell that story, one has to rewind a bit further. I understand that not everyone will really care about all the background, so let's keep the meat & potatoes up front: right-click this link to download a PDF of this issue of the Raider Record, published exactly 31 years and a few days ago. The file is approximately 13 megs.
And now the backstory. (more…)