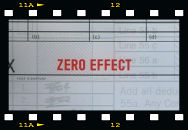 Gregory Stark has problems. The Portland executive has lost his keys – and someone's blackmailing him out of millions of dollars. To solve both cases, which he believes are connected, he hires the world's foremost private investigator, Darryl Zero. Zero is a reclusive enigma, seldom (if ever) venturing outside of his heavily-protected home, and interacting with his clients through his confidant, Steve Arlo. But in this case, Zero has to interact with the real world, leaving L.A. to travel up the Pacific coast looking for clues. As it turns out, Stark doesn't just have troubles – he is trouble. And Darryl Zero faces the worst possible obstacle to his legendary detachment from the rest of the human race: he's falling in love with the chief suspect.
screenplay by Jake Kasdan
directed by Jake Kasdan
music by The Greyboy Allstars

Cast: Bill Pullman (Darryl Zero), Ben Stiller (Steve Arlo), Ryan O'Neal (Gregory Stark), Kim Dickens (Gloria Sullivan), Angela Featherstone (Jess), Hugh Ross (Bill), Sarah DeVincentis (Daisy), Matt O'Toole (Kragan Vincent), Michele Mariana (Maid), Robert Katims (Gerald Auerbach), Tyrone Henry (Staffer #1), Aleta Barthell (Staffer #2), Tapp Watkins (Firefighter), Wendy Westerwelle (Motel Clerk), Lauren Hasson (Little Kid), Daniel Pershing (Rahim), David Doty (Officer Hagans), J.W. Crawford (Convention Employee), Fred Parnes (Chuck), Luisa Sermol (Waitress), Marvin L. Sanders (Astronomer #1), Doug Baldwin (Astronomer #2), Robert Blanche (Paramedic #1), Margot Demeter (Clarissa Devereau)
LogBook entry and review by Earl Green
Review: This offbeat detective flick takes nearly every possible convention of the genre and gives it a twist. Sometimes a subtle twist, and more often an almighty 360-degree spin. Zero is presented as unlikable, completely socially inept, and possibly even a drug addict. His detachment from his cases is total – he never sets foot outside of his penthouse apartment, and only lets one person in: Arlo. Bill Pullman gives Zero as little charm as he possibly can, and it works beautifully for the character. The guy's a pig. With his personal habits, it's almost a wonder he's alive and relatively healthy. (On at least two occasions, very subtle references imply some drug use on Zero's part, but this isn't explored any further.)
On the flipside, we're treated to one of Ben Stiller's best dramatic roles yet. He does get to be funny, but more often than not, he's playing the straight man to Pullman's basket case. The humor that arises is an honest reflection of the two men's interaction.
Supporting players Ryan O'Neal (Stark) and Kim Dickens (Gloria Sullivan) are a big part of the movie's appeal. There's something subtly creepy about both characters – and that's because there's supposed to be something creepy about them. To say more than that would give away at least one of the many surprising turns that the movie takes in its second half. Let's put it this way: this movie zags when conventional film wisdom expects it to zig. It does not end the way you think it might when it begins.
Jake Kasdan, son of Lawrence Kasdan (who did a great deal of script-polishing on such films as The Empire Strikes Back, The Big Chill, The Accidental Tourist and others), wrote and directed Zero Effect – his first crack at either job on a major feature. As surprising as it is for someone as young as the junior Kasdan to land this kind of freedom – this was also his first producer gig – it's even more surprising for that debut effort to be this good.