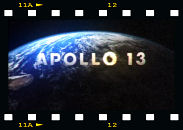 The crew of the third American moon landing mission prepares for their flight early in 1970. At the last minute, command module pilot Ken Mattingly is declared unfit for flight due to possible exposure to the measles, and mission commander Jim Lovell can either make the flight with the backup pilot, Jack Swigert, or risk his entire crew being pushed back to a later flight. Lovell decides to replace Mattingly with Swigert, and even though Swigert has had less training time, he's determined to make it a good flight. The launch goes off smoothly, and Apollo 13 is en route to the moon. But during a routine procedure, a huge explosion rips through the service module of the isolated spacecraft, draining the vital oxygen needed not only for consumption by the astronauts, but to provide electricity for the attached command module. Lovell, Haise and Swigert evacuate to the relatively tiny lunar module, which is meant to sustain only two men for less than a day – but they now face a journey of several days to return to Earth, during which they will have to shut down both the lunar lander and what's left of the command module to preserve power. The three astronauts and their hundreds of landlocked flight controllers – including Ken Mattingly, who is most assuredly healthy and puts all of his effort into exploring possible survival solutions for his former crewmates – are focusing their energies on bringing Apollo 13 home. But time, physics, and the odds are all against them.

screenplay by William Broyles Jr. & Al Reinert
based on the book "Lost Moon" by Jim Lovell & Jeffrey Kluger
directed by Ron Howard
music by James Horner

Cast: Tom Hanks (Jim Lovell), Bill Paxton (Fred Haise), Kevin Bacon (Jack Swigert), Gary Sinise (Ken Mattingly), Ed Harris (Gene Kranz), Kathleen Quinlan (Marilyn Lovell), Mary Kate Schellhardt (Barbara Lovell), Emily Ann Lloyd (Susan Lovell), Miko Hughes (Jeffrey Lovell), Max Elliott Slade (Jay Lovell), Jean Speegle Howard (Blanch Lovell), Tracy Reiner (Mary Haise), David Andrews (Pete Conrad), Michelle Little (Jane Conrad), Chris Ellis (Deke Slayton), Joe Spano (NASA Director), Xander Berkeley (Henry Hurt), Marc McClure (Glynn Lunney), Ben Marley (John Young), Clint Howard (EECOM White), Loren Dean (EECOM Arthur), Tom Wood (EECOM Gold), Godgy Gress (RETRO White), Patrick Mickler (RETRO Gold), Ray McKinnon (FIDO White), Max Grodenchik (FIDO Gold), Christian Clemenson (Dr. Chuck Berry), Brett Cullen (CAPCOM 1), Ned Vaughn (CAPCOM 2), Andy Milder (GUIDO White), Geoffrey Blake (GUIDO Gold), Wayne Duvall (LEM Controller White), Jim Meskimen (TELMU White), Joseph Culp (TELMU Gold), John Short (INCO White), Ben Bode (INCO Gold), Todd Louiso (FAO White), Gabriel Jarret (GNC White), Christopher John Fields (Booster White), Kenneth White (Grumman Rep), Jim Ritz (Ted), Andrew Lipschultz (Launch Director), Mark Wheeler (Neil Armstrong), Larry Williams (Buzz Aldrin), Endre Hules (Guenter Wendt), Karen Martin (Tracey), Maureen Hanley (Woman), Meadow Williams (Kim), Walter Von Huene (Technician), Brian Markinson (Pad Rat), Steve Rankin (Pad Rat), Austin O'Brien (Whiz Kid), Louisa Marie (Whiz Kid Mom), Thom Barry (Orderly), Arthur Benzy (SIM Tech), Carl Gabriel Yorke (SIM Tech), Ryan Holihan (SIM Tech), Rance Howard (Reverend), J.J. Chaback (Neighbor), Todd Hallowell (Noisy Civilian), Matthew Goodall (Stephen Haise), Taylor Goodall (Fred Haise Jr.), Misty Dickinson (Margaret Haise), Roger Corman (Congressman), Lee Anne Matusek (Loud Reporter), Mark D. Newman (Loud Reporter), Mark McKeel (Suit Room Assistant), Patty Raya (Patty), Jack Conley (Science Reporter), Jeffrey B. Kluger (Science Reporter), Bruce Wright (Anchor), Ivan Allen (Anchor), Jon Bruno (Anchor), Reed Rudy (Roger Chaffee), Steve Bernie (Virgil Grissom), Steven Ruge (Edward White), Herbert Jefferson Jr. (Reporter), Julie Donatt (Reporter), John Dullaghan (Reporter), Thomas Crawford (Reporter), John Wheeler (Reporter), Frank Cavestani (Reporter), Paul Mantee (Reporter), John M. Matthews (Reporter), Jim Lovell (Recovery Ship Captain), Walter Cronkite (Opening Narration)
Review: This is, without a doubt, the best non-sci-fi space movie ever made. And it doesn't hurt that, for the most part, it's a true story. The performances are all fantastic, and in those cases where the odds get too oppressive in the story, there are unexpected moments of levity which usually take the form of brief television snippets of unintentionally ridiculous reportage (such as Jeff Kluger, co-author of the book that inspired this movie, doing a television science report in which he says if this basketball is Earth, and this baseball the moon, the spacecraft has to travel along a path no thicker than this sheet of paper…), slightly reminiscent of Being There. Tom Hanks, fresh from his blastoff to fame as Forrest Gump, is exceptional as Jim Lovell (who himself appears in an uncredited cameo as the captain of the Navy ship which recovers the Apollo 13 crew after splashdown). And while Lovell's book describing the events surrounding Apollo 13 paints a picture of his wife Marilyn being a little more calm and steely, Kathleen Quinlan provides an earthbound oasis of raw emotion, as opposed to the ultra-professional calm and occasional humorous quirkiness of the NASA flight controllers in Houston. The sets are nothing less than astonishing in their accuracy.
Another tremendous feat pulled off by Apollo 13 is that it leaves the viewer with a sense of American pride. It's not accomplished with chest beating braggadocio, or a huge fanfare (except in the case of James Horner's score, which is the most original thing he's done in many, many years). It instead pays a simple tribute to the best sentiments of exploration and hard work. Putting men on the moon was a remarkable feat, accomplished by years of thought and labor and training. Failing to put men on the moon, and instead barely bringing them back from a seemingly hopeless predicament, was no less of an accomplishment. Not too many movies give me that feeling. The Right Stuff barely does that for me. But Apollo 13 does.